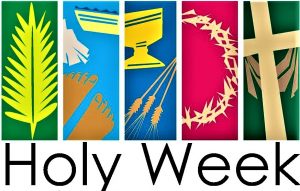 April 19, 2019
Good Friday
Audio of Today's Readings
Today's Gospel
MT 5:20-26
Jesus said to his disciples:
"I tell you,
unless your righteousness surpasses that
of the scribes and Pharisees,
you will not enter into the Kingdom of heaven.
"You have heard that it was said to your ancestors,
You shall not kill; and whoever kills will be liable to judgment.
But I say to you, whoever is angry with his brother
will be liable to judgment,
and whoever says to his brother, Raqa,
will be answerable to the Sanhedrin,
and whoever says, 'You fool,' will be liable to fiery Gehenna.
Therefore, if you bring your gift to the altar,
and there recall that your brother
has anything against you,
leave your gift there at the altar,
go first and be reconciled with your brother,
and then come and offer your gift.
Settle with your opponent quickly while on the way to court.
Otherwise your opponent will hand you over to the judge,
and the judge will hand you over to the guard,
and you will be thrown into prison.
Amen, I say to you,
you will not be released until you have paid the last penny."
Bishop Robert Barron:
April 22, 2019
Monday in the Octave of Easter
Audio of Today's Readings
Today's Gospel
MT 28:8-15
Mary Magdalene and the other Mary went away quickly from the tomb,
fearful yet overjoyed,
and ran to announce the news to his disciples.
And behold, Jesus met them on their way and greeted them.
They approached, embraced his feet, and did him homage.
Then Jesus said to them, "Do not be afraid.
Go tell my brothers to go to Galilee,
and there they will see me."
While they were going, some of the guard went into the city
and told the chief priests all that had happened.
The chief priests assembled with the elders and took counsel;
then they gave a large sum of money to the soldiers,
telling them, "You are to say,
'His disciples came by night and stole him while we were asleep.'
And if this gets to the ears of the governor,
we will satisfy him and keep you out of trouble."
The soldiers took the money and did as they were instructed.
And this story has circulated among the Jews to the present day.
Bishop Robert Barron:
April 23, 2019
Tuesday in the Octave of Easter
Audio of Today's Readings
Today's Gospel
JN 20:11-18
Mary Magdalene stayed outside the tomb weeping.
And as she wept, she bent over into the tomb
and saw two angels in white sitting there,
one at the head and one at the feet
where the Body of Jesus had been.
And they said to her, "Woman, why are you weeping?"
She said to them, "They have taken my Lord,
and I don't know where they laid him."
When she had said this, she turned around and saw Jesus there,
but did not know it was Jesus.
Jesus said to her, "Woman, why are you weeping?
Whom are you looking for?"
She thought it was the gardener and said to him,
"Sir, if you carried him away,
tell me where you laid him,
and I will take him."
Jesus said to her, "Mary!"
She turned and said to him in Hebrew, "Rabbouni,"
which means Teacher.
Jesus said to her, "Stop holding on to me,
for I have not yet ascended to the Father.
But go to my brothers and tell them,
'I am going to my Father and your Father,
to my God and your God.'"
Mary went and announced to the disciples,
"I have seen the Lord,"
and then reported what he had told her.
Bishop Robert Barron:
April 24, 2019
Wednesday in the Octave of Easter
Audio of Today's Readings
Today's Gospel
LK 24:13-35
That very day, the first day of the week,
two of Jesus' disciples were going
to a village seven miles from Jerusalem called Emmaus,
and they were conversing about all the things that had occurred.
And it happened that while they were conversing and debating,
Jesus himself drew near and walked with them,
but their eyes were prevented from recognizing him.
He asked them,
"What are you discussing as you walk along?"
They stopped, looking downcast.
One of them, named Cleopas, said to him in reply,
"Are you the only visitor to Jerusalem
who does not know of the things
that have taken place there in these days?"
And he replied to them, "What sort of things?"
They said to him,
"The things that happened to Jesus the Nazarene,
who was a prophet mighty in deed and word
before God and all the people,
how our chief priests and rulers both handed him over
to a sentence of death and crucified him.
But we were hoping that he would be the one to redeem Israel;
and besides all this,
it is now the third day since this took place.
Some women from our group, however, have astounded us:
they were at the tomb early in the morning
and did not find his Body;
they came back and reported
that they had indeed seen a vision of angels
who announced that he was alive.
Then some of those with us went to the tomb
and found things just as the women had described,
but him they did not see."
And he said to them, "Oh, how foolish you are!
How slow of heart to believe all that the prophets spoke!
Was it not necessary that the Christ should suffer these things
and enter into his glory?"
Then beginning with Moses and all the prophets,
he interpreted to them what referred to him
in all the Scriptures.
As they approached the village to which they were going,
he gave the impression that he was going on farther.
But they urged him, "Stay with us,
for it is nearly evening and the day is almost over."
So he went in to stay with them.
And it happened that, while he was with them at table,
he took bread, said the blessing,
broke it, and gave it to them.
With that their eyes were opened and they recognized him,
but he vanished from their sight.
Then they said to each other,
"Were not our hearts burning within us
while he spoke to us on the way and opened the Scriptures to us?"
So they set out at once and returned to Jerusalem
where they found gathered together
the Eleven and those with them who were saying,
"The Lord has truly been raised and has appeared to Simon!"
Then the two recounted what had taken place on the way
and how he was made known to them in the breaking of the bread.
Bishop Robert Barron:
April 25, 2019
Thursday in the Octave of Easter
Audio of Today's Readings
Today's Gospel
LK 24:35-48
The disciples of Jesus recounted what had taken place along the way,
and how they had come to recognize him in the breaking of bread.
While they were still speaking about this,
he stood in their midst and said to them,
"Peace be with you."
But they were startled and terrified
and thought that they were seeing a ghost.
Then he said to them, "Why are you troubled?
And why do questions arise in your hearts?
Look at my hands and my feet, that it is I myself.
Touch me and see, because a ghost does not have flesh and bones
as you can see I have."
And as he said this,
he showed them his hands and his feet.
While they were still incredulous for joy and were amazed,
he asked them, "Have you anything here to eat?"
They gave him a piece of baked fish;
he took it and ate it in front of them.
He said to them,
"These are my words that I spoke to you while I was still with you,
that everything written about me in the law of Moses
and in the prophets and psalms must be fulfilled."
Then he opened their minds to understand the Scriptures.
And he said to them,
"Thus it is written that the Christ would suffer
and rise from the dead on the third day
and that repentance, for the forgiveness of sins,
would be preached in his name
to all the nations, beginning from Jerusalem.
You are witnesses of these things."
Bishop Robert Barron:
April 26, 2019
Friday in the Octave of Easter
Audio of Today's Readings
Today's Gospel
JN 21:1-14
Jesus revealed himself again to his disciples at the Sea of Tiberias.
He revealed himself in this way.
Together were Simon Peter, Thomas called Didymus,
Nathanael from Cana in Galilee,
Zebedee's sons, and two others of his disciples.
Simon Peter said to them, "I am going fishing."
They said to him, "We also will come with you."
So they went out and got into the boat,
but that night they caught nothing.
When it was already dawn, Jesus was standing on the shore;
but the disciples did not realize that it was Jesus.
Jesus said to them, "Children, have you caught anything to eat?"
They answered him, "No."
So he said to them, "Cast the net over the right side of the boat
and you will find something."
So they cast it, and were not able to pull it in
because of the number of fish.
So the disciple whom Jesus loved said to Peter, "It is the Lord."
When Simon Peter heard that it was the Lord,
he tucked in his garment, for he was lightly clad,
and jumped into the sea.
The other disciples came in the boat,
for they were not far from shore, only about a hundred yards,
dragging the net with the fish.
When they climbed out on shore,
they saw a charcoal fire with fish on it and bread.
Jesus said to them, "Bring some of the fish you just caught."
So Simon Peter went over and dragged the net ashore
full of one hundred fifty-three large fish.
Even though there were so many, the net was not torn.
Jesus said to them, "Come, have breakfast."
And none of the disciples dared to ask him, "Who are you?"
because they realized it was the Lord.
Jesus came over and took the bread and gave it to them,
and in like manner the fish.
This was now the third time Jesus was revealed to his disciples
after being raised from the dead.
Bishop Robert Barron:
April 27, 2019
Saturday in the Octave of Easter
Audio of Today's Readings
Today's Gospel
MK 16:9-15
When Jesus had risen, early on the first day of the week,
he appeared first to Mary Magdalene,
out of whom he had driven seven demons.
She went and told his companions who were mourning and weeping.
When they heard that he was alive
and had been seen by her, they did not believe.
After this he appeared in another form
to two of them walking along on their way to the country.
They returned and told the others;
but they did not believe them either.
But later, as the Eleven were at table, he appeared to them
and rebuked them for their unbelief and hardness of heart
because they had not believed those
who saw him after he had been raised.
He said to them, "Go into the whole world
and proclaim the Gospel to every creature."
Bishop Robert Barron:
April 29, 2019
Memorial of Saint Catherine of Siena, Virgin and Doctor of the Church
Audio of Today's Readings
Today's Gospel
JN 3:1-8
There was a Pharisee named Nicodemus, a ruler of the Jews.
He came to Jesus at night and said to him,
"Rabbi, we know that you are a teacher who has come from God,
for no one can do these signs that you are doing
unless God is with him."
Jesus answered and said to him,
"Amen, amen, I say to you,
unless one is born from above, he cannot see the Kingdom of God."
Nicodemus said to him,
"How can a man once grown old be born again?
Surely he cannot reenter his mother's womb and be born again, can he?"
Jesus answered,
"Amen, amen, I say to you,
unless one is born of water and Spirit
he cannot enter the Kingdom of God.
What is born of flesh is flesh
and what is born of spirit is spirit.
Do not be amazed that I told you,
'You must be born from above.'
The wind blows where it wills,
and you can hear the sound it makes,
but you do not know where it comes from or where it goes;
so it is with everyone who is born of the Spirit."
Bishop Robert Barron:
April 30, 2019
Tuesday of the Second Week of Easter
Audio of Today's Readings
Today's Gospel
JN 3:7B-15
Jesus said to Nicodemus:
"'You must be born from above.'
The wind blows where it wills, and you can hear the sound it makes,
but you do not know where it comes from or where it goes;
so it is with everyone who is born of the Spirit."
Nicodemus answered and said to him,
'How can this happen?"
Jesus answered and said to him,
"You are the teacher of Israel and you do not understand this?
Amen, amen, I say to you,
we speak of what we know and we testify to what we have seen,
but you people do not accept our testimony.
If I tell you about earthly things and you do not believe,
how will you believe if I tell you about heavenly things?
No one has gone up to heaven
except the one who has come down from heaven, the Son of Man.
And just as Moses lifted up the serpent in the desert,
so must the Son of Man be lifted up,
so that everyone who believes in him may have eternal life."
Bishop Robert Barron: