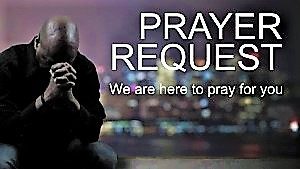 Sisters and brothers in Francis and Clare, our sister, France Staudenmann, OFS, is requesting your prayers for her husband and our friend, Jean-Louis, who will have hip replacement surgery this Monday, March 12.
Sisters and brothers in Francis and Clare, I would like prayers for my good friend, Bob W. On Wednesday, in Florida, he will be undergoing brain surgery for a fast growing malignant tumor. This is the same type of cancer that Sen. John McCain has and that claimed the life of Joe Biden's son. Peace and All Good, Harry & Kathy Ford
Sisters and Brothers in Francis and Clare,
Our sister, Karan Bevers, OFS, is requesting prayers for baby Gabriela, the baby of this year's needy family.
Prayer Requests for baby Gabriela, her brother Elian, their mommy Yedaris, and their daddy Luis. Last night, Gabriela had a fever and Yedaris had to take her to a Hospital's Emergency Room because they still have not received medical coverage. This afternoon, Yedaris texted me the following message:
Yesterday, I am sure our mother, Mary of Guadalupe, received all our prayers for Gabriela and healed her, because she has been well today. I am thankful for her intercession and everyone's prayers. I made a rosary to thank her.
Sisters and Brothers in Francis and Clare,
Our sister, Lita Maisel, OFS, is requesting prayers for her brother, Bill Parr who suffered a brain stem aneurysm earlier today. Please keep Lita and her family in your daily prayers.
Sisters and Brothers in Francis and Clare,
Please pray for my daughter in law, Audra, mother of five from ages one to nine, whose two year old has recently recovered from pneumonia (thank you for your prayers). She had a severe ocular event. The neurologist wants to rule out a stroke or brain tumor. Her father died from complications from a brain tumor. She is scheduled for an MRI tomorrow. Please pray that the findings are negative Thank you for all of your prayers for my family. They are heard and answered by the Lord. Peace and all good, Claudette Lucas, OFS
Sisters and Brothers in Francis and Clare,
A few months ago I asked for a prayer request for my friend's husband who was diagnosed with pancreatic cancer. David Hailes is now back home and in hospice care, he is in his mid-50s. Please may I ask for urgent prayers for him and his wife Cindi and their family.
Thank you deeply, Joanne Patton
Brothers and Sisters, please pray for a young man named Austin (20 years old) who is a youth leader at my parish. He was in a major car accident two days ago and taken to UMMC Shock Trauma. His Prognosis is grave. Since the surgery, the pressure in his brain has risen. He is now being taken off of the ventilator to see if he will survive. Karan Bevers, OFS
Sisters and Brothers in Francis and Clare, I would like to request prayers for Mr. Walter Rutemuel who is a member of my parish church, Church of the Resurrection in Ellicott City. Walter is a senior man and is seriously ill now. He is diagnosed with cancer.
Walter has led the Rosary every morning in the church before the Mass. Even while he was suffering from the illness, he managed to come to the church in the morning to say Rosary and to hear Mass. But these days, we have not seen him, and we all miss him and pray for him. Walter is also my brother in the Confraternity of the Most Holy Rosary.
I would like to ask my dear sisters and brothers to pray for Walter that the Lord would strengthen his faith, and encourage him to overcome all hardships in the love of Christ. James Kim, OFS
Sisters and brothers in Francis and Clare, our sister, Susan Suprock, OFS is requesting prayers. Susan is scheduled for cancer surgery tomorrow (Thursday). Please keep Susan, the doctors and staff in your prayers for a successful surgery for our sister Susan.
Sisters and brothers in Francis and Clare, Ralph Colavita (Franciscan Associate) is asking prayers for his son, Benjamin who is struggling with drug and alcohol addiction. Praying that he seeks professional help to break the grip of addiction.
Dear Sisters and Brothers, Karan Bevers, inquirer, has been experiencing severe health issues. Please keep her in your daily prayers that Karan will return to good health soon.
Perpetual Novena to Holy Spirit with the intercession St. Francis for the Conversion of ISIS
Holy Spirit, as you inspired St. Francis to become the instrument of Your Peace by seeking out the Sultan, so now together with St. Francis we ask You to convert the hearts of all who are involved in or support ISIS. That they become people of True Prayer, that though their True Prayer they become people of True Love that will lead them to True Peace. The Peace that is beyond all understanding, the Peace that Society cannot give.
Our Father…
Hail Mary…
Glory Be…
St. Francis… Pray for us
Mary, Queen of Peace… Pray for us
Life can be hard and, at times, we can feel overwhelmed and even alone. Part of belonging to a community of faith means having people, even people we don't know, love and care about us. These are our sisters and brothers in faith and they are here to help each of us. One way they do this is by praying for us. Did you know there is an Archdiocesan Prayer Ministry made up of a diverse group of Catholic women and men waiting to lift our burdens before the Lord through prayer and to stand with us as we go through the trials of life?
About the Archdiocesan Prayer Ministry:
The Archdiocesan Prayer Ministry is made up of Catholics from throughout the Archdiocese of Baltimore who are committed to prayer and to living the call to, "Bear one another's burdens, and so fulfill the law of Christ" (Galatians 6:2).
The Prayer Ministry is comprised of men and women, young and old, religious and lay, from every ethnic and cultural background representing the great diversity of the Archdiocese of Baltimore. They pray as individuals and as a group in homes, parishes and meeting spaces throughout our Archdiocese. Like you, these pray-ers are people who have suffered the same hurts, fears, pains, sickness, loss and everyday burdens.
After your prayer request is received, it is forwarded to the Prayer Ministry by the Archdiocese's Outreach Coordinator. The prayer ministers will stand with you in prayer for God's mercy, love, and compassion.