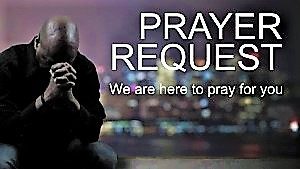 Sisters and Brothers in Francis and Clare, our Regional Database Manager, Mary Lou Coffman, OFS, is requesting prayers for her son Todd: "He has a broken neck and a broken back, but the neurosurgeon says they're clean breaks and should heal with no problem. He also has several dislocated fingers.
He will have to be in a brace from his head to his waist to keep both breaks immobile, and will have to have physical therapy has he heals.
The doctor says that he will likely be able to go home to Fredericksburg in a few days, and that it's also likely that he will be able to return to work in a two to three months.
We are thanking God that the fall was from such a low height — he often works on the upper stories of buildings. We are thankful that the breaks are clean. We are thankful that the ironworkers union will be taking care of financial issues because it was an on-the-job injury.
Our continuing prayers for Todd are twofold: 1) that his healing is swift and complete; 2) that out of all of this he can somehow be able to acknowledge his need for God in his life". Mary Lou
Sisters and Brothers in Francis and Clare, I would like to request prayers for Mr. Walter Rutemuel who is a member of my parish church, Church of the Resurrection in Ellicott City. Walter is a senior man and is seriously ill now. He is diagnosed with cancer.
Walter has led the Rosary every morning in the church before the Mass. Even while he was suffering from the illness, he managed to come to the church in the morning to say Rosary and to hear Mass. But these days, we have not seen him, and we all miss him and pray for him. Walter is also my brother in the Confraternity of the Most Holy Rosary.
I would like to ask my dear sisters and brothers to pray for Walter that the Lord would strengthen his faith, and encourage him to overcome all hardships in the love of Christ. James Kim, OFS
Sisters and Brothers in Francis and Clare, Our brother, Gerry Pinkas, OFS is requesting prayers for a fellow Secular Franciscan sister in Pennsylvania and close friend, Lynny Colgan-Cohen, has asked for prayers for her sister Eileen who has an aggressive form of cancer and is suffering greatly.
Sisters and Brothers in Francis and Clare, Our sister Claudette Lucas, OFS, is requesting prayers for her daughter Stephanie. Several months ago Stephanie developed a lump on her breast and the matter remains unresolved. Stephanie has developed another lump in the same area and is scheduled for an MRI and biopsy to completely rule out a malignancy. Claudette is requesting prayers that the results of these diagnostics are good and that these steps are just precautionary. Claudette is also requesting prayers for all young mothers who face the same challenge to receive good results and for the graces for comfort to reduce stress as they are on this journey.
Sisters and brothers in Francis and Clare, our sister, Susan Suprock, OFS is requesting prayers. Susan is scheduled for cancer surgery tomorrow (Thursday). Please keep Susan, the doctors and staff in your prayers for a successful surgery for our sister Susan.
Sisters and brothers in Francis and Clare, Even though I'm not a professed Franciscan yet, may I ask for a prayer request please? The husband of a dear friend of mine has been diagnosed with Pancreatic cancer and given 6-18 months to live. He is 57 years old. If the Fraternity could lift him up in prayer, so many would be grateful. His name is David Hailes.
Thank you so much, Joanne
Sisters and brothers in Francis and Clare, our sister, Theresa Heath, OFS, had two falls recently. In the first she suffered a torn rotatory cuff, same arm that had rotatory cuff surgery twelve years ago. The day after commencing PT to heal the tear (3/11), she fell fracturing her wrist. Both accidents happened at home, right arm. She will have surgery soon to repair the fracture. Please keep our sister in your daily prayers.
Sisters and brothers in Francis and Clare, Ralph Colavita (Franciscan Associate) is asking prayers for his son, Benjamin who is struggling with drug and alcohol addiction. Praying that he seeks professional help to break the grip of addiction.
Dear Sisters and Brothers, Karan Bevers, inquirer, has been experiencing severe health issues. Please keep her in your daily prayers that Karan will return to good health soon.
Perpetual Novena to Holy Spirit with the intercession St. Francis for the Conversion of ISIS
Holy Spirit, as you inspired St. Francis to become the instrument of Your Peace by seeking out the Sultan, so now together with St. Francis we ask You to convert the hearts of all who are involved in or support ISIS. That they become people of True Prayer, that though their True Prayer they become people of True Love that will lead them to True Peace. The Peace that is beyond all understanding, the Peace that Society cannot give.
Our Father…
Hail Mary…
Glory Be…
St. Francis… Pray for us
Mary, Queen of Peace… Pray for us
Life can be hard and, at times, we can feel overwhelmed and even alone. Part of belonging to a community of faith means having people, even people we don't know, love and care about us. These are our sisters and brothers in faith and they are here to help each of us. One way they do this is by praying for us. Did you know there is an Archdiocesan Prayer Ministry made up of a diverse group of Catholic women and men waiting to lift our burdens before the Lord through prayer and to stand with us as we go through the trials of life?
About the Archdiocesan Prayer Ministry:
The Archdiocesan Prayer Ministry is made up of Catholics from throughout the Archdiocese of Baltimore who are committed to prayer and to living the call to, "Bear one another's burdens, and so fulfill the law of Christ" (Galatians 6:2).
The Prayer Ministry is comprised of men and women, young and old, religious and lay, from every ethnic and cultural background representing the great diversity of the Archdiocese of Baltimore. They pray as individuals and as a group in homes, parishes and meeting spaces throughout our Archdiocese. Like you, these pray-ers are people who have suffered the same hurts, fears, pains, sickness, loss and everyday burdens.
After your prayer request is received, it is forwarded to the Prayer Ministry by the Archdiocese's Outreach Coordinator. The prayer ministers will stand with you in prayer for God's mercy, love, and compassion.