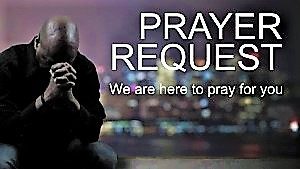 Sisters and brothers in Francis and Clare, our sister Denise Donaldson, OFS, is requesting prayers for her husband, our brother, Chris Donaldson, OFS. Chris has been diagnosed with throat cancer. Please pray for strength and healing.
Chris will also be graduating from his studies in 7 weeks and is in the middle of lots of work to cross that finish line which is such a blessing! Denise is also requesting prayers of thanksgiving and perseverance for the end of his school journey,
Sisters and brothers in Francis and Clare, our sister, Susan Suprock, OFS is requesting prayers, her biopsies came back positive for cancer and will see the surgeon on Wednesday and oncologist on Thursday. Please keep Susan in your prayers.
Sisters and brothers in Francis and Clare, Even though I'm not a professed Franciscan yet, may I ask for a prayer request please? The husband of a dear friend of mine has been diagnosed with Pancreatic cancer and given 6-18 months to live. He is 57 years old. If the Fraternity could lift him up in prayer, so many would be grateful. His name is David Hailes.
Thank you so much, Joanne
Sisters and brothers in Francis and Clare, our sister, Theresa Heath, OFS, had two falls recently. In the first she suffered a torn rotatory cuff, same arm that had rotatory cuff surgery twelve years ago. The day after commencing PT to heal the tear (3/11), she fell fracturing her wrist. Both accidents happened at home, right arm. She will have surgery soon to repair the fracture. Please keep our sister in your daily prayers.
Sisters and brothers in Francis and Clare, our sister, Susan Suprock, OFS, is scheduled for a sterotactic biopsy tomorrow morning following an abnormal diagnostic mammogram last week. Please pray for all involved, that the procedure goes smoothly with no complications, for wisdom for the doctors and nurses, and for peace and calm for her and her family.
Sisters and brothers in Francis and Clare, Ralph Colavita (Franciscan Associate) is asking prayers for his son, Benjamin who is struggling with drug and alcohol addiction. Praying that he seeks professional help to break the grip of addiction.
Dear Sisters and Brothers in Francis and Clare, A prayer request from our sister, Claudette Lucas, OFS:
I have a prayer request for my daughter in law and the family. Our daughter in law, a new mom (June 30) with five children, had a biopsy of her thyroid on Wednesday. The mass in her neck was discovered prior to delivery of the baby. The results were called to her yesterday afternoon and are positive for cancer. Although highly treatable, she and our son, will be seeing multiple physicians during this period and surgery is in her future. I am asking for prayers that the cancer has not spread in her neck and that the Lord will shower graces upon all of the family during this time of treatment and recovery and that all is according to God's Holy Will. Thank you in advance for your prayers! Claudette Lucas, OFS
Dear Sisters and Brothers, Karan Bevers, inquirer, has been experiencing severe health issues these past several months. Please keep her in your daily prayers that Karan will return to good health soon. In Francis and Clare, bob longo, ofs
Perpetual Novena to Holy Spirit with the intercession St. Francis for the Conversion of ISIS
Holy Spirit, as you inspired St. Francis to become the instrument of Your Peace by seeking out the Sultan, so now together with St. Francis we ask You to convert the hearts of all who are involved in or support ISIS. That they become people of True Prayer, that though their True Prayer they become people of True Love that will lead them to True Peace. The Peace that is beyond all understanding, the Peace that Society cannot give.
Our Father…
Hail Mary…
Glory Be…
St. Francis… Pray for us
Mary, Queen of Peace… Pray for us
Life can be hard and, at times, we can feel overwhelmed and even alone. Part of belonging to a community of faith means having people, even people we don't know, love and care about us. These are our sisters and brothers in faith and they are here to help each of us. One way they do this is by praying for us. Did you know there is an Archdiocesan Prayer Ministry made up of a diverse group of Catholic women and men waiting to lift our burdens before the Lord through prayer and to stand with us as we go through the trials of life?
About the Archdiocesan Prayer Ministry:
The Archdiocesan Prayer Ministry is made up of Catholics from throughout the Archdiocese of Baltimore who are committed to prayer and to living the call to, "Bear one another's burdens, and so fulfill the law of Christ" (Galatians 6:2).
The Prayer Ministry is comprised of men and women, young and old, religious and lay, from every ethnic and cultural background representing the great diversity of the Archdiocese of Baltimore. They pray as individuals and as a group in homes, parishes and meeting spaces throughout our Archdiocese. Like you, these pray-ers are people who have suffered the same hurts, fears, pains, sickness, loss and everyday burdens.
After your prayer request is received, it is forwarded to the Prayer Ministry by the Archdiocese's Outreach Coordinator. The prayer ministers will stand with you in prayer for God's mercy, love, and compassion.