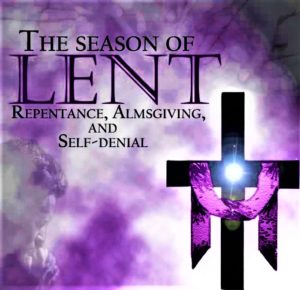 Pope Francis' suggestions for fasting:
1. Fast from hurting words and say kind words.
2. Fast from sadness and be filled with gratitude.
3. Fast from anger and be filled with patience.
4. Fast from pessimism and be filled with hope.
5. Fast from worries and have trust in God.
6. Fast from complaints and contemplate simplicity.
7. Fast from pressures and be prayerful.
8. Fast from bitterness and fill your hearts with joy.
9. Fast from selfishness and be compassionate to others.
10. Fast from grudges and be reconciled.
11. Fast from words and be silent so you can listen.
**************************************************
**************************************************
**************************************************
**************************************************
What Should I Do For Lent? Pope Francis' 10 Tips
1. Get rid of the lazy addiction to evil
"[Lent] is a 'powerful' season, a turning point that can foster change and conversion in each of us. We all need to improve, to change for the better. Lent helps us and thus we leave behind old habits and the lazy addiction to the evil that deceives and ensnares us." – General Audience, March 5, 2014
2. Do something that hurts
"Lent is a fitting time for self-denial; we would do well to ask ourselves what we can give up in order to help and enrich others by our own poverty. Let us not forget that real poverty hurts: no self-denial is real without this dimension of penance. I distrust a charity that costs nothing and does not hurt." – Lenten Message, 2014
3. Don't remain indifferent
"Indifference to our neighbor and to God also represents a real temptation for us Christians. Each year during Lent we need to hear once more the voice of the prophets who cry out and trouble our conscience. God is not indifferent to our world; he so loves it that he gave his Son for our salvation." –Lenten Message, 2015
4. Pray: Make our hearts like yours!
"During this Lent, then, brothers and sisters, let us all ask the Lord: 'Fac cor nostrum secundum cor tuum': Make our hearts like yours (Litany of the Sacred Heart of Jesus). In this way we will receive a heart which is firm and merciful, attentive and generous, a heart which is not closed, indifferent or prey to the globalization of indifference." – Lenten Message, 2015
5. Take part in the sacraments
"Lent is a favorable time for letting Christ serve us so that we, in turn, may become more like him. This happens whenever we hear the word of God and receive the sacraments, especially the Eucharist. There we become what we receive: the Body of Christ." – Lenten Message, 2015
6. Prayer
"In the face of so many wounds that hurt us and could harden our hearts, we are called to dive into the sea of prayer, which is the sea of God's boundless love, to taste his tenderness. Lent is a time of prayer, of more intense prayer, more prolonged, more assiduous, more able to take on the needs of the brethren; intercessory prayer, to intercede before God for the many situations of poverty and suffering." – Homily, March 5, 2014
7. Fasting
"We must be careful not to practice a formal fast, or one which in truth 'satisfies' us because it makes us feel good about ourselves. Fasting makes sense if it questions our security, and if it also leads to some benefit for others, if it helps us to cultivate the style of the Good Samaritan, who bends down to his brother in need and takes care of him." – Homily, March 5, 2014
8. Almsgiving
"Today gratuitousness is often not part of daily life where everything is bought and sold. Everything is calculated and measured. Almsgiving helps us to experience giving freely, which leads to freedom from the obsession of possessing, from the fear of losing what we have, from the sadness of one who does not wish to share his wealth with others." – Homily, March 5, 2014
9. Help the Poor
"In the poor and outcast we see Christ's face; by loving and helping the poor, we love and serve Christ. Our efforts are also directed to ending violations of human dignity, discrimination, and abuse in the world, for these are so often the cause of destitution. When power, luxury, and money become idols, they take priority over the need for a fair distribution of wealth. Our consciences thus need to be converted to justice, equality, simplicity, and sharing." – Lenten Message, 2014
10. Evangelize
"The Lord asks us to be joyous heralds of this message of mercy and hope! It is thrilling to experience the joy of spreading this good news, sharing the treasure entrusted to us, consoling broken hearts and offering hope to our brothers and sisters experiencing darkness." – Lenten Message, 2014
You probably won't be able to take huge steps forward in all of these areas. Instead, pick a couple that stands out to you and try to find practical ways to grow in your love of God and your love of your neighbor.
**************************************************
Bishop Barron's Lenten Reflections
LENT DAY 1 – Into the Desert
In so many of the great figures of salvation history—Abraham, Jacob, Joseph, Moses, Isaiah, Jeremiah, David, etc.—a period of testing or trial is required before they can commence their work. We see the same thing in the initiation rituals of primal peoples, and you can see it in Luke Skywalker's initiation in Star Wars.
The goal of the Biblical initiation rituals is to convey this simple truth: your life is not about you. It is about God and God's purposes for you.
This was the purpose of Jesus's forty-day sojourn in the desert, which we model during Lent. The desert represents a stripping away of our attachments, so as to make the fundamental things appear. In the desert, there are no distractions or diversions or secondary matters. Everything is basic, necessary, and simple. Either one survives or one doesn't. One finds in the desert strengths and weaknesses he never knew he had.
So are you ready to visit your desert? Are you prepared to deal with your particular temptations to pleasure, power, money, and honor? Even if, in the past, you have not succeeded in the ways you wanted, remember that our God is a God of second chances. It's never too late to start again.
On this Ash Wednesday, let's recommit ourselves and together journey into the desert.
LENT DAY 2 – Mustard Seeds
Jesus said that the Kingdom of God is like a mustard seed, "the smallest of all the seeds on the earth. But once it is sown, it springs up and becomes the largest of plants…so that the birds of the sky can dwell in its shade" (Matthew
13:31
).
The first Christians understood Jesus to be speaking of his Church, the mystical body that began in the smallest way, but has come in time to be home to the nations of the world. The mustard seed of the Church began with a thirty-year-old man, dying on an instrument of torture, his disciples having fled, and his enemies mocking him. But it grew into the Body of Christ composed of billions of people in every country on the planet, and many more in heaven.
Watch this pattern repeated up and down the centuries. Francis of Assisi was something of a drifter, a young man who had repudiated the way of his father and was following the prompting of the Lord. Most people saw him as crazy, dangerous, and deranged. Soon, he attracted followers, and their number grew into the hundreds. The first Franciscan missionaries were stoned, chased away, or killed. But within a hundred years of Francis's death, they were a world-wide organization—a mustard seed, indeed.
Mother Teresa left the relative comfort of her convent behind high walls in Calcutta and walked out into the streets of the worst slum in the world. Anyone seeing her with ordinary eyes would have written her off. But soon enough, she attracted followers who established her order in Calcutta, then around India, then in Venezuela, Rome, New York, London, and around the world. Another mustard seed.
This Lent, what mustard seed can you plant that might grow into a great tree where the birds of the air make their nests?
LENT DAY 3 – Freedom from Sin
The Church speaks the deepest truth about sin. It refuses to explain it away or make excuses for it or call it by another name. This is one reason for the Church's deep unpopularity throughout the ages.
Do you remember that terrible story from the fall of 2006 in which a mad man made his way into an Amish school house in Pennsylvania and killed, in cold blood, five little girls and then himself? It would be hard to imagine a more heinous crime.
Yet, in the immediate wake of that terrible event, the families of the slain children went to visit the family of the man who had killed their little girls—and they pronounced their forgiveness of him. Their wounds, psychological and emotional, must have been as evident as the physical wounds on their kids.
And yet, they pronounced forgiveness. Mind you, it was not so much their own peace that they were offering; it was Christ's peace, the peace beyond all understanding. But they were vehicles of it, the means by which it rushed into the world.
Can I suggest a reading of Christ's words to the disciples that might be a tad surprising? "If you forgive men's sins, they are forgiven them; if you hold them bound, they are held bound" (John 20:23). This does indeed have a juridical sense; Christ is indeed commissioning his priests to be the instruments of sacramental forgiveness.
But I think that there is a broader sense here as well, a sense in which these words apply to all Christians, priests and laity alike. Jesus is giving his Church the enormous privilege and responsibility of bearing the divine forgiveness to a fallen world.
And see how the words of the Lord apply precisely: if you (my followers) forgive men's sins, they are forgiven; and if you don't, they are still held bound by them.
The Church's great mission is the pronouncement of the forgiveness of sins, the letting-free of a sin-bound world.
Have you accepted that mission?
LENT DAY 4 – Peter Maurin and Concrete Acts of Love
Today I'd like to highlight one of the great Catholic figures of the twentieth century, Peter Maurin. He was born in May of 1877 in the south of France, one of 23 children—that's not a typo. He was educated by the Christian Brothers and, early on, became deeply inspired by the example of St. Francis.
In 1909, Maurin sailed for North America and for about twenty years lived a sort of radical Franciscan life, performing manual labor during the day, sleeping in any bed he could find, dining in skid-row beaneries. Any money he made, he spent on books or gave to those less fortunate.
During these years, Maurin was trying to develop a coherent Catholic social philosophy. The main problem with society, he felt, was that sociology, economics, and politics had all been divorced from the Gospel. The Gospel was a private concern of "religious" people and had no discernable effect on the way the political, social, and economic realms were run.
In a word, he thought that society had lost its transcendent purpose. Life had come to be organized around the drive for production and the search for profits, rather than around the real spiritual development of the person.
Maurin knew that the Church had an answer to this, and it was the Gospel of Jesus Christ. Maurin's program was what he called "a personalist revolution," which meant the building of a new world within the shell of the old, rather than waiting for social circumstances to change. The Christian should simply begin living according to a new set of values.
In 1932, Peter Maurin met a young woman in New York named Dorothy Day. For some years, Dorothy had been trying to find her path, a way of reconciling her new-found Catholic faith with her deep commitment to social action. With the arrival of Peter Maurin, she felt that her prayers had been answered.
He told her to start a newspaper which would present Catholic social teaching and provide for greater clarity of thought, and then to open "houses of hospitality" where the works of mercy could be concretely practiced. And this is precisely what she did. Together Day and Maurin founded the Catholic Worker Movement. They operated soup kitchens and bread lines for the poor and invited homeless people to stay with them.
Peter Maurin and Dorothy Day remind us that we simply cannot love Christ without concretely loving those most in need. Love of Christ and love of neighbor coincide. Heaven and earth must come together.
LENT DAY 5 – Not on Bread Alone
The temptations Jesus faced in the desert may seem a little obscure to us, but, in fact, they lie at the heart of all human temptation. They are three classic substitutes for the good that is God's will.
The first great temptation is to focus our lives on material things and the satisfaction of sensual desire: "The tempter approached him and said to him, 'If you are the Son of God, command that these stones become loaves of bread.'" Jesus is starving after 40 days of fasting, and he feels the temptation to use his divine power to satisfy his bodily desires.
This means that he feels the pull to make the satisfaction of bodily desire the center and ground of his life. This is the pull toward hedonism—the philosophy that the good life is the physically-satisfying life. Food, drink, sex, material things, money, comfort, or a secure sense of the future have become the supreme values for many in our culture.
Many, many people throughout history, and to this day, are waylaid by this powerful temptation. It is powerful because the desires are so basic. Thomas Merton said that the sensual desires—for food, comfort, pleasure, and sex—are like little children in that they are so immediate and so insistent.
But our lives will never open to greater depth as long as we are dominated by our physical desires. This is why in so many of the initiation rituals of primal peoples, something like fasting or sensible deprivation is essential. It is also why initiation into a demanding form of life, like the military, often involves the deprivation of sensual pleasures.
When we give way to this temptation, it shuts down the soul, for the soul has been wired for God. It was created for the journey into the divine, for the beatific vision. When sensual desire dominates, those deeper and richer desires are never felt or followed. They are, as Merton said, like little children, constantly clamoring for attention.
This is why Jesus responds: "Scripture has it, 'Not on bread alone shall man live" (Matthew 4:4). Life means so much more than sensual pleasure. Love, loyalty, relationship, family, moral excellence, aesthetic pleasure, and the aspiration after God are all so much more important.
LENT DAY 6 – The Allure of Power
Having failed at his first attempt to tempt Jesus in a direct and relatively crude way, the devil plays a subtler game: "The devil took him higher and showed him all the kingdoms of the world in a single instant" (Matthew 4:8).
This is the more refined temptation of power. Power is one of the greatest motivating factors in all of human history. Alexander the Great, Caesar, Marcus Aurelius, Charlemagne, the Medicis, Charles V, Henry VIII, Louis XIV, and Napoleon—these are all people who have been seduced by the siren song of power.
We notice something very disquieting in the account of this temptation: the devil admits that all the kingdoms of the world have been given to him. He owns and controls them. That is quite a sweeping indictment of the institutions of political power. Isn't it true that it seems extremely difficult for someone to attain high positions of power and not become corrupt?
It might be useful to recall here the two great names for the devil in the Bible: ho Satanas, which means "the adversary", and ho diabolos, which means "the liar" or "the deceiver." Worldly power is based upon accusation, division, and lies. It's the way that earthly rulers have always done their business. A tremendous temptation for Jesus was to use his Messianic authority to gain worldly power, to become a king. But if he had given in to this, he would not have remained a conduit of the divine grace. He would be as remembered today as, perhaps, one of the governors of Syria or satraps of Babylon.
No, Jesus wanted to be the one through whom the divine love surged into creation, and so he said to Satan, "Scripture has it, 'You shall do homage to the Lord your God; him alone shall you adore.'"
LENT DAY 7 – Always Be Ready
The first two temptations were straightforward enough: sensual pleasure and power. But this third one is more elusive. It is the temptation toward glory. It is the temptation to use God, to manipulate him instead of becoming his servant: "Then the devil led him to Jerusalem, set him on the parapet of the Temple, and said, 'If you are the Son of God, throw yourself down from here…'"
What does the Temple have to do with glory? There was no place more central in Jewish society than the Temple, no place more revered. To stand therefore at the very pinnacle of the Temple is to stand highest in the eyes of the world. Everyone would be watching you, even God. As the devil says to Jesus, "He will bid his angels watch over you…with their hands they will support you, lest you stumble on a stone."
This is the temptation to self-deification, one that all of us sinners are susceptible to. It's the temptation to make ourselves the center of the universe. But Jesus replies, "You shall not put the Lord your God to the test." God remains God, and you must become his servant.
Having dealt with these three classic temptations—sensual pleasure, power, and self-deification—Jesus is ready for his mission.
But the Gospel ends on an ominous note: "When the devil had finished every temptation, he departed from him for a time." Notice the words "for a time." This is a warning to all of us that temptation will return throughout our lives, often at key moments.
Lent is a good time to remember that we must always be ready.
LENT DAY 8 – Resisting the Lordship of God
The past few days we have looked at the temptation of Jesus in the desert. All temptations have one thing in common: they entice us to resist the Lordship of God in our lives.
The first human temptation began with the Great Lie in the Garden of Eden, the lie that says we can live our best life outside the rules of God. It suggests that we need total autonomy to be happy. We know this temptation well.
Likewise, the three temptations Jesus faced in the desert are temptations we all face. They're not exactly the same, of course, but his temptations represent three classic ways that we resist the Lordship of God in our lives.
First, we place sensual pleasure at the center of our concerns. We make eating, drinking, and sex our dominant concerns. But this is a mistake, for only God can legitimately fill that central position. This is why Jesus must confront this temptation, feeling its full weight, and then resist it for us.
Next, we are tempted by power. From political dictators to tyrants within families and friendships, power is alluring. This is the temptation Jesus faces as he is brought to the highest mountain and offered all the kingdoms of the world. Once more, on our behalf, acting for us, Jesus resists this temptation.
Finally, we tend to place honor in that central position. We want a high reputation, we want to be seen by everyone, admired and thought highly of. This is the temptation Jesus faces when he is taken to the parapet of the Temple, the highest place in the society of his time, the place of supreme visibility. And, for the third time, Jesus confronts and resists this temptation for us.
Today, I ask you to reflect on where you are right now. What are you doing in the garden of your life? Who is luring you and how? Are you buying into the Big Lie?
Where are you in the desert? How do you stand up to the three great temptations: to sensual pleasure, to honor, and to power?
LENT DAY 9 – Groaning in Labor
No one has to tell us that the world as we know it is a place of suffering, travail, and woe. Just watch the nightly news, or walk through a forest preserve or nature preserve and see the slaughterhouse of the animals. You'll see injustice, violence, and blood everywhere.
In light of that, let us take a look at Paul's mysterious and wonderful letter to the Romans: "I consider that the sufferings of the present time are as nothing compared to the glory to be revealed for us. For creation was made subject to futility…in the hope that creation itself would be set free… We know that all creation is groaning in labor pains even until now" (Romans 8:18-22).
These are wonderful and yet puzzling words. Paul gives us the magnificent image of groaning in labor. The gestation of a baby is a slow and often uncomfortable process, and the act of giving birth—especially in Biblical times—is often horribly painful.
So the world, in all of its travail and woe, is like a maternity ward where millions of mothers are laboring to give rise to life. Or the world, in all of its travail and woe, is like a garden that stands in constant need of pruning and hoeing and cutting.
Think of an old, gnarled tree whose beauty is largely due to the signs of its struggle with life, or the beauty of an old person's face, which arises from the twists and turns and agonies of making it through the human journey. These are signs of suffering in the present life.
And yet all of this is in service of God's deep purposes, even when we can't clearly see them.
LENT DAY 10 – Rejoice in Our Suffering
St. Paul reflected often on suffering. In his letter to the Colossians, the apostle says, "Now I rejoice in my sufferings for your sake, and in my flesh, I am filling what is lacking in the afflictions of Christ" (Colossians1:24).
In his letters, Paul frequently attests to his great suffering. He was beaten, shipwrecked, imprisoned many times, rejected by his own people, and he suffered under the weight of some ailment—physical or psychological, we don't really know—for the whole of his life. Finally, of course, he was put to death. He was a man who knew about pain.
But here he tells us that he rejoices in his sufferings because, somehow, they are joined to the sufferings of Christ.
How do we understand this? Well, Christ saved us through an act of suffering. He died for us on the cross, bearing in his own person the weight of our sin. On the cross, suffering and love coincide. And when you think of it, every act of love involves suffering, since love always involves bearing the burden of another.
Now in Paul's vision, the Church is not a society or a collectivity of like-minded people. Rather, it is a body, made up of interdependent cells, molecules, and organs. We don't just follow Christ or admire him; we participate in him. Baptism involves just this dynamic of identification and participation.
Therefore, we shouldn't be surprised that we will be called upon to suffer. We have been given the privilege of carrying on Christ's work in the world in just this way.
Charles Williams speaks of the principle of co-inherence as key to Catholicism. This is the idea that we are connected to one another much as the organs and systems of a living body are connected.
Thus, just as one system can take up the work of another, or one organ the burden of another that is ailing, so can one member of the body of Christ bear the burden of another.
In accord with Paul's master idea, we can consciously offer our suffering—physical, spiritual, psychological—to Christ in order that he might use it, in his own mysterious manner, to benefit someone else. Christ allows us to minister through our pain.
LENT DAY 11 – Suffering and Salvation – St. Francis of Assisi
There are times when the saving quality of our suffering is relatively easy to understand (even if it's hard to bear). When a mother stays up all night, depriving herself of sleep, in order to care for a sick child, she is carrying his burden, suffering so that some of his sufferings might be alleviated. When a person willingly bears an insult and refuses to fight back or return insult for insult, he is suffering for the sake of love.
I'll give you two more dramatic examples. First is Maximilian Kolbe. When a prisoner escaped from Auschwitz in the summer of 1942, the Nazi soldiers imposed their penalty. They took all of the prisoners from the escapees' barracks and lined them up and then at random chose a man to be put to death in retaliation. When the man broke down in tears, protesting that he was the father of young children, a quiet bespectacled Franciscan stepped forward and said, "I am a Catholic priest; I have no family. I would like to die in this man's place."
Here, with brutal clarity, we can see the relationship between salvation and suffering, willingly accepted. St. Maximilian Kolbe was consciously participating in the act of his Master, making up, in Paul's language, what is still lacking in the suffering of Christ (Colossians 1:24).
And then there is St. Francis of Assisi, from whom Pope Francis took his name. Among the many stories told of St. Francis, one of the most affecting is that concerning his encounter with a leprous man.
Young Francis had a particular revulsion for leprosy. Whenever he saw someone suffering from that disease, he would run in the opposite direction. One day, he saw a leper approaching, and he sensed the familiar apprehension and disgust. But then he decided, under the inspiration of the Gospel, to embrace the man, kiss him, and give him alms. Filled with joy, Francis made his way up the road. When he turned around, he discovered the man gone, disappeared.
Once again, suffering was the concrete expression of love.
LENT DAY 12 – God on the Mountain
Today at Mass, we hear about the Transfiguration of Jesus, which was of great importance for the early Christians.
The Transfiguration takes place on a mountain, and this right away places it in relation to the Old Testament. Abraham is willing to sacrifice his son on a mountain; Noah's ark comes to rest on Mt. Ararat; the law is given to Moses on Mt. Sinai; Elijah challenges the priests of Baal on Mt. Carmel; Jerusalem is built on the top of Mt. Zion.
Mountains are places of encounter with God.
In the New Testament, Jesus gives the law on a mountain: the Sermon on the Mount. He dies on Mt. Calvary. And, in a climactic moment in his public life, he brings three of his disciples to the top of a mountain—and there he is transfigured before them.
What is especially being stressed here is the manner in which Jesus represents the fulfillment of the Old Testament revelation, economically symbolized by the two figures with whom he converses: Moses, representing the law, and Elijah, representing the prophets.
When a Jew of Jesus' time would speak of the Scriptures, he would use a shorthand: the Law and the Prophets. So in speaking to Moses and Elijah, in the glory of the Transfiguration, Jesus signals that he brings the law and the prophets to their proper fulfillment.
N.T. Wright, the great contemporary Biblical scholar, says that the Old Testament remained, fundamentally, a story without an ending, a promise without fulfillment…that is until Jesus came into history.
LENT DAY 13 – What the Transfiguration Means
At the Transfiguration, Moses represented the law and Elijah represented the prophets. But why were Peter, James, and John present? And what does this event mean to us today?
St. Thomas Aquinas devotes an entire section in his Summa theologiae to the Transfiguration. His treatment offers some answers.
Aquinas says that it was fitting that Christ be manifested in his glory because those who are walking an arduous path need a clear sense of the goal of their journey. The arduous path is this life, with all of its attendant sufferings, failures, setbacks, disappointments, and injustices. And its goal is heavenly glory, which is fullness of life with God, the transformation of our bodies.
As Jesus makes his way toward the cross, he accordingly allows, for a brief time, his glory to shine through, the radiance of his divinity to appear. This event is meant to awaken our sense of wonder and affirm that we are not meant finally for this world.
Next, Aquinas asks about the "light" or the "glory" that envelops Christ during the Transfiguration, noting that it "shines." Why have people, trans-historically and trans-culturally, associated holiness with light? Well, light is that by which we see, that which illumines and clarifies. But light is also beautiful, and beautiful things shine. Aquinas says that Jesus, at the Transfiguration, began to shine with the radiance of heaven so as to entrance us with the prospect of our own transfiguration.
Finally, Aquinas talks about the "witnesses" to the Transfiguration, namely Peter, James, John, Moses, and Elijah. Moses stands for the Law, and Jesus recapitulates, perfects, and illumines the Mosaic law: "I have come not to abolish the law but to fulfill it." Christ is the new Moses, the new Lawgiver.
Similarly, Elijah stands for the prophets; he was the greatest of the prophets. The prophets spoke the words of God. And since Jesus is the Word of God, the prophetic books are read in his light.
So why is Peter there? Because, says Aquinas, he loved the Lord the most. Why is John there? Because the Lord loved him the most. Why is James there? Because he was the first of the Apostles to die for his faith. Who gets access to the glory of Jesus? Those who are tied to him through love.
LENT DAY 14 – Where is Your Mountain?
As we continue our meditations, especially focusing on the Transfiguration, I would like to reflect on prayer. Studies show that prayer is a very common, popular activity. Even many people who profess no belief in God still pray!
But what precisely is prayer—or better, what ought it to be? The Transfiguration is extremely instructive. We hear that Jesus took Peter, James, and John with him "up the mountain to pray." Now, as we've said before, mountains are standard Biblical places of encounter with God. The idea was that the higher you go, the closer you come to God.
We don't have to be literal about this, but we should unpack its symbolic sense. In order to commune with God, you have to step out of your every day, workaday world. The mountain symbolizes transcendence, otherness, the realm of God. If people say, "I pray on the go" or "my work is my prayer," they're not really people of prayer.
Your mountain could be church, a special room in your house, the car, or a corner of the natural world. But it has to be someplace where you have stepped out of your ordinary business. And you have to take the time to do it. Jesus and his friends literally stepped away in order to pray.
The text then says, "While he was praying, his face changed in appearance and his clothing became dazzling white" (Luke 9:29). The reference here is to Moses whose face was transfigured after he communed with God on Mt. Sinai. But the luminosity is meant in general to signal the invasion of God.
In the depths of prayer, when you have achieved communion with the Lord, the light of God's presence is kindled deep inside of you, at the very core of your existence. And then it begins to radiate out through the whole of your being. That's why it is so important that Luke mentions the clothing of Jesus becoming dazzling white. Clothes evoke one's contact with the outside world.
The God discovered in prayer should radiate out through you to the world, so that you become a source of illumination.
LENT DAY 15 – From Mountain to Mission
We've mentioned before how Moses and Elijah represent the Law and the Prophets, but there is more to their appearance at the Transfiguration than just a symbolic representation or shorthand for the Jewish Scriptures. They give us additional insights into the nature of prayer.
Recall that the text says, "Behold, two men were conversing with him, Moses and Elijah…" When you pray, you step out of the ordinary world of space and time and enter into the properly eternal realm of God. This means that you can come into contact with the past and the future. You establish contact with what the Church calls "the communion of saints," all those friends of God over the centuries. We speak of invoking the saints, speaking with them, seeking their help and intercession. This is not just pious talk. It is grounded in this metaphysics of eternity.
But what precisely are Jesus, Moses, and Elijah talking about? The answer is "…his exodus that he was going to accomplish in Jerusalem" (Luke 9:31). We notice first of all the thematic connection between the Exodus that Moses led—a journey from slavery to freedom—and the exodus that Jesus would accomplish on the cross, a journey from sin and death to resurrection.
In both cases, it is a great work of liberation and life-giving love. This is key: the fruit of prayer in the Biblical tradition is action on behalf of the world. We are, essentially, a mission religion. Even the highest moments of mystical union are meant to conduce to doing God's work in the world, to becoming a conduit of the divine grace. This is why Peter's line is so important: "Master, it is good that we are here; let us make three tents, one for you, one for Moses, and one for Elijah" (Luke 9:33).
As Luke points out immediately, "But he did not know what he was saying." The point of prayer is not to stay on the mountain. It is not to cling to mystical experience, however wonderful. It is to become radiant with the divine light so as to share it with the world. And this is why the voice from the cloud, once it identified Jesus, specified, "Listen to him."
LENT DAY 16 – Like a Flash of Lightning
One of the key visuals in the story of the Transfiguration is the divine light that radiates from Jesus. Matthew says, "His face shone like the sun, and his clothes became as white as the light." Luke reports, "His clothes became as bright as a flash of lightning." And Mark says, "His clothes became dazzling white, whiter than anyone in the world could bleach them."
This light seems to signal the beauty and radiance of a world beyond this one, a world rarely seen, and only occasionally glimpsed, amidst the griminess and ordinariness of this world.
Is this beautiful and radiant world ever seen today? Let me share a few stories with you. When I was traveling recently, I met a man who, as a young man, encountered St. Padre Pio, the famous stigmatist. He was privileged to serve his Mass. During the elevation of the host, after the consecration, this man noticed something remarkable: there was a glow around the holy man's hands. Years later when he heard reports of "auras" he said to himself, "That's what I saw that day."
Malcolm Muggeridge, the English journalist and convert to Catholicism, was filming Mother Teresa for a documentary. One day, the electricity was out, and he bemoaned the fact that he had to film her without lights, convinced that the day would be lost. But when the film was developed, he noticed that the scenes were beautifully lit, and it appeared as though the light was coming from her.
And I know this might be a bit of a stretch, but there is scientific speculation that the marks on the shroud of Turin, the holy icon thought by many to be the burial shroud of Christ, were caused by a burst of radiant energy—light energy.
From the time of the earliest disciples, the holy followers of Jesus were pictured with halos above their heads. What is a halo if it is not the divine light breaking into our world today?
LENT DAY 17 – Mass and the Mountain
Yesterday we talked about the divine light as it appears through holy men and women. But is it possible for us ordinary people to see this light? I suggest that we do so every time we enter into the drama and beauty of the liturgy.
As Jesus appears in full glory, Peter, James, and John fall down in holy fear. This suggests an attitude of worship, the stance that all of us assume every time we approach the altar of God.
See also how the story paints an icon of the liturgy, both earthly and heavenly. At the center of it stands Jesus, the light of the world, the source of life. On either side of him stand Moses (the Law) and Elijah (the prophet). In the course of the liturgy, we read from the Old Testament, described in Jesus' time in the shorthand of "the Law and the Prophets."
Moses and Elijah also stand for the communion of saints, those who have been drawn into the heavenly life and who commune with Jesus. They are present at the liturgy, too, as we invoke them just before the Eucharistic prayer: "with the angels and the saints."
There is also a "bright cloud" and from the cloud, a voice declaring, "This is my beloved Son with whom I am well pleased, listen to him." The bright cloud signifies the Holy Spirit, and the voice is that of God the Father. This is a Trinitarian theophany—as at the Baptism of Jesus—and this theophany runs right through the liturgy from beginning to end.
After the vision, Peter, James, and John return to their day-to-day lives, coming back down the mountain. So, after we have glimpsed the light, we are told, "Go, the Mass is ended."
LENT DAY 18 – God of the Nations
While we take comfort from much of the Bible's message, the Bible is not always comforting news. It often carries a message of warning and danger. It's good for us, during this Lenten season, to attend to the darker side of the Biblical message.
For example, when we read in the Old Testament about the pollution of the Lord's Temple, it's a familiar prophetic theme: the people have wandered from the ways of God, rendering impure what God intends to be just and upright. God sends prophet after prophet in order to bring his people back, but they are ignored, mocked, and rejected. Then God's judgment falls on the unfaithful nation.
What is the instrument of God's justice? One of the heathen nations, the Chaldeans, who come and destroy the city of Jerusalem, burn the Temple, carry off its most sacred objects, and lead the people into exile.
What is this? Dumb bad luck? Just the give and take of geopolitical forces? No! The Bible insists that this should be read as God's action—more specifically as God's judgment and punishment. How at odds this is with the typically modern/Enlightenment view, according to which religion is a private matter, confined to the heart and the mind of the individual. For the Biblical authors, God is the Lord of history and time, and hence the Lord of nations and the Lord of nature. His works and actions must be discerned in all events.
Let me give you an example of such a boldly theological reading of political events. Karl Barth is considered one of the greatest Protestant theologians of the twentieth century. At the start of the First World War, he was a country pastor in Switzerland who had been trained in the confident liberal theology that was all the rage around the turn of the last century. This theology shared the common view that with the rise of the natural sciences, with the development of technology, and with political and cultural liberation, human beings could build the Kingdom of God here on earth.
From the quiet of his parsonage in Switzerland, Barth followed the horrors of the First World War, the slaughter of hundreds of thousands, the devastation of nations, the collapse of the European social order. Then something dawned on him: the conviction that it was precisely the inflated self-regard and hubris of nineteenth-century liberalism that led to this disaster!
He saw the European powers as descendants of the builders of the Tower of Babel, attempting to reach up to God on their own terms and in their own way. Behind the sunny confidence of the liberal period, he discerned arrogance, imperialism, and colonialism. The advances of science were made possible through the rape of the environment and economic comfort for some was made possible through the enslavement of others. In all of this, he read current events in light of God's great plan.
As difficult as that sometimes is to do, it's how we're to read our lives as well.
LENT DAY 19 – Lazarus, Come Out!
Jesus raises three people from the dead in the Gospel stories: the daughter of Jairus, the son of the widow of Naim, and Lazarus. In the symbolic language of the Gospels, these physical resuscitations are evocative of spiritual raisings from sin to spiritual health.
St. Augustine says that the young girl, who dies inside her house, symbolizes the sin that takes place in our thoughts and our hearts but that has not yet borne fruit in action. The son of the widow of Naim, carried to the gate of the house, represents sin that has expressed itself concretely in action. This dead man is raised and given back to his mother, who stands for the Church.
Thirdly, and most drastically, we have the case of Lazarus. He stands for the worst kind of moral/spiritual corruption: sin that has been expressed in the world and become embedded in evil custom and habit. This is the rot that has really set in, producing a spiritual stink.
In the Gospel of John, the raising of Lazarus takes place just before the Passion, just before the climactic moment when Jesus defeats death by succumbing to it. When told that Lazarus has died, Jesus says, "Our beloved Lazarus has fallen asleep, but I am going there to wake him" (John 11:11). With these words, he signifies we are in a new world. Within the confines of the old world, the old consciousness, death is ultimate, and its very finality gives it its power, but referring to it as "sleep," Jesus is signaling that through God's power and according to God's purpose, death is not ultimate; it is not the final word.
"When Jesus arrived at Bethany, he found that Lazarus had already been in the tomb four days" (John 11:17). This is to signal that there is no mistake; the man is truly and definitively dead. But this is no concern for the one who transcends both space and time, whose power stretches beyond life and death as we know them.
Martha comes out to meet him and indicates her incipient belief in his identity and power: "Lord if you had been here, my brother never would have died. Even now, I am sure that God will give you whatever you ask him." Jesus replies, "Your brother will rise again…I am the resurrection and the life" (John 11:21-25). God hates death and doesn't want its phony finality to ruin human life.
Coming to Lazarus's tomb, Jesus feels the deepest emotions and begins to weep. This is God entering into the darkness and confusion and agony of the death of sinners. He doesn't blithely stand above our situation, but rather takes it on and feels it.
But then, like a warrior, he approaches the enemy. "Take away the stone," he directs. Those who are stuck within the confines of this world protest, "Lord, surely there will be a stench." They are saying, "Don't mess with death; you can't reverse it. Its power is final."
Jesus is undaunted. He commands, "Lazarus, come out!" This is the voice, not simply of a hopeful human being, not simply of a great religious figure; this is the voice of God who hates death and has dominion over it. And therefore "The dead man came out."
Jesus finally says, "Untie him and let him go free." Just as he freed Lazarus, so Jesus liberates us from our thralldom to death.
LENT DAY 20 – Calling Us Out of the Tomb
Let's reflect a bit more on Jesus' encounter with Lazarus. At the tomb of Lazarus, Jesus "groaned in spirit." Jesus' trouble here is the result of his identification with sinful humanity. He goes all the way to the bottom of it, letting its truth affect him. Jesus does not just love us abstractly or from a distance; no, he comes close to us. More to the point, this groaning of Jesus signals the pain that God feels at our imprisonment. If his glory is our being fully alive, his agony is our sin. How salvific it can be to listen to this groaning of the Lord at our own lack of life.
In the same vein, Jesus weeps for his friend. There is something heartbreaking about this for it is the only time in the Scripture that Jesus is described as weeping. Whatever form death takes in us—physical, psychological, spiritual—it is something deeply troubling to God.
One detail is particularly moving: Jesus asks, "Where have you laid him?" Sin alienates us from our God, making us strangers to him. Just as God in the book of Genesis looked for Adam and Eve who were hiding from him, so here God incarnate doesn't know where his friend Lazarus is.
Then the Lord comes to the tomb. We hear that it was a cave with a stone laid across it. When things are dead, we bury them away, we hide them. When we feel spiritually dead, we lock ourselves up in the darkness of our own anxiety and egotism and fear. But there is a power, a divine power, sent into this world whose very purpose is to break through all such stones.
"Lazarus, come out!" Are there any words more beautiful and stirring in the whole New Testament? From whatever grave we are lying in, Jesus calls us out.
LENT DAY 21 – Something from Nothing
The God of the Bible creates ex nihilo, from nothing, and this is incomparably good news. It applies not only to creation in the grand metaphysical sense but creation in a spiritual and physical sense as well.
The story of Elijah and the widow of Zarapheth demonstrates this. It was a time of drought in Israel, and Elijah is desperate. So Yahweh gives him instruction and invites him to trust. But the Lord sends the prophet to about the least likely place of succor: to a widow in a town outside of Israel's borders.
Widows were practically helpless at this time, and indeed when Elijah asks her for something to eat, she says that she only has enough for one more meal for herself and her son. But then comes a mutual act of faith. Elijah trusts that God must have sent him to the right place, for he asks for her to make him a cake. And she trusts in him and does what he asks. What happens? The flour and oil do not run out for a year.
Both the prophet and the widow were in dire straits and both found what they needed. But the story goes on. Elijah stays with the widow and her son, and the son becomes deathly ill and finally dies. The widow—already bereft of her husband and now without any means of support, emotional or financial—despairs and lashes out at the prophet.
But once again, as she is striking bottom, the prophet asks her to trust: "Give me your son," he says. Elijah takes the young man upstairs and cries aloud to God. Then stretching himself three times on the child's body, he supplicates the Lord again. And the young man came back to life!
An absolutely hopeless situation became a place of hope. Not only did the young man come back to life, but the widow regained her faith.
If you feel hopeless or despairing this Lent, remember that God can bring something from nothing.
LENT DAY 22 –The Gaze of God
What is it about a face? When we meet someone, we study that person's face. The face gives away the soul. We can read so much in a person's facial expression. So much of the texture of what she's thinking, feeling, and experiencing can be sensed in the face. When we want to be honest and direct, we look someone in the face. When we resolve to meet a difficult situation, we face up to it.
On the other hand, standing before the face of another can be threatening and shaming, but also sometimes enlivening.
In the book of Numbers, the Lord instructs Moses how he wants the priests to bless the people: "Speak to Aaron and his sons and tell them: this is how you shall bless the Israelites. Say to them: The Lord bless you and keep you! The Lord let his face shine upon you, and be gracious to you! The Lord look upon you kindly and give you peace" (Numbers 6:23-26).
This is all about the face of Yahweh. We often speak about man's search for God. But the thrust here is in a different direction. It is much more interested in God's quest for us. God looks upon us with love and searches us out when we run from him.
Think of Psalm 139 in this context: "Lord, you search me and you know me; you know my resting and my rising; you discern my purpose from afar. Before ever a word is on my lips, you know it, O Lord, through and through…"
Many of us are, despite ourselves, deists. That is, we think of God—if we think of him at all—as a distant force, a creative power indifferent to the world.
But that just isn't biblical religion. God knows us, loves us, searches us out, and makes his face to shine upon us, looking upon us kindly.
Think of the experience of being gazed upon by someone who loves you and whom you love. In that gaze—penetrating, knowing, benign—you find, not oppression, but joy and peace. That's how God looks upon you.
LENT DAY 23 – Beasts of the Earth
During Lent, we may spend time doing battle with what we call our "animal passions." But this may not be the right way to put it because God's covenant is made, not just with men and women, but with the animals as well.
I know this sounds strange to us, but that is because we are the heirs of modernity, a philosophical movement that tends to separate human beings radically from other animals and from nature. Modernity sees nature as, at best, something that might serve us or be mastered by us. But God has a much more integrated vision of things. All creatures, coming forth from God, are ontological siblings—brothers and sisters. In finding oneness with God, we find, ipso facto, oneness with the rest of creation.
This idea is reflected in much of the great tradition prior to modernity. St. Thomas Aquinas says that vegetables, plants, and animals are ensouled like us. In fact, the word "animal" just means "thing with ananima, a soul." Thomas Aquinas saw us as part of a great chain or hierarchy of being. For the modern consciousness, we are, essentially, the masters of nature, and this is part of the problem for us, of course. We have so mastered nature that we are, effectively, alienated from it.
The Bible would have named this as one of the faces of sin. Sin, the caving in on oneself prompted by fear and pride, effectively cuts us off from each other, but it also cuts us off from the non-human world around us. It cuts us off from our love for it, our curiosity about it, our care for it, and our fascination with it. (This was one of the major themes in Pope Francis' encyclical, Laudato Si'.)
But Jesus, in his own person, joins together the disparate elements of creation, the spiritual and the material, angels and wild beasts.
LENT DAY 24 – Animals and Angels
Medieval scholars said that the human being was a kind of microcosm since he bore within himself the spiritual and the physical. Through his body, man reached down to the lower elements and was one with the animals and minerals, but through his mind, he reached upwards to God and the angels.
We know instinctively how right this is. On the one hand, we can explore the intricacies of mathematics and geometry. We can soar with Mozart and Shakespeare. We can design high-level computers and machines that can move through the galaxy. We can enter into the depth and silence of prayer, becoming as much like the angels as possible. In so many ways, we strain upward to our home among the spirits.
On the other hand, we are, like it or not, animals. We need food and drink. We get too hot and too cold. We experience instincts and emotions that often get the better of us. We revel in the sheer pleasure of the senses and the thrill of being touched. We love to run, to exercise our muscles. We exult in the rough and tumble of very physical competition and play.
This is our glory—in a sense we combine the best of both worlds—but it is also our agony. It is the source of much of our sadness and conflict for it entails that we are a hybrid, a half-breed, something of a metaphysical mongrel. We bring together two qualities that are at odds with each other. The spirit strains against the body, and the body strains against the spirit. Sometimes the spirit commands and the body refuses to obey; sometimes the body makes demands that the spirit cannot or will not accommodate. This tension is one of the faces of sin. It is the result of the dislocation between ourselves and God.
The harmony of spiritual and physical seems to be what God savors and intends: the spirit commanding the body, but the body also informing the spirit. There is a proper hierarchy between them, but it must never become a tyranny. The demands and goods of the body must always be respected, and must even, to some degree, shape the life of the spirit. We were made as embodied spirits, or if you prefer, as spiritualized bodies. And we will be saved as spirit-body composites.
LENT DAY 25 – God is Working
In his second letter to the Corinthians, St. Paul tells us, "We walk by faith and not by sight." It's a lovely summary of the Christian life. We see the world around us, as anyone else does, and we can learn to understand it according to conventional categories—political, cultural, economic, etc.
But as Christians, our primary orientation is not given by reason; it's given by faith. And this has nothing to do with irrationality or credulity. It has to do with an appreciation of God and the movement of God—precisely in and through all of the conventional events perceived in a conventional manner.
Sometimes it is exceedingly hard to see what God is doing. But we trust. It might happen slowly and in the face of overwhelming contrary evidence, but God is always acting. From the smallest beginnings can come the accomplishment of God's purpose.
Jesus makes much the same point: "This is how it is with the kingdom of God; it is as if a man were to scatter seed on the land and would sleep and rise night and day and through it all the seed would sprout and grow, he knows not how" (Mark 4:26-27).
God is working, though we can't see it with our eyes and our ordinary categories.
LENT DAY 26 – Everything I Have is Yours
The Parable of the Prodigal Son (Luke 15:1-32), which we hear today at Mass, tells us practically everything we need to know about our relationship to God if we attend to the details.
We hear: "A man had two sons. The younger of them said to his father, 'Father, give me the share of the estate that is coming to me.'" We are the children of God; we have been given our life, our being, everything by him; we exist through him every moment.
But then the wrong response: "Give me my share that is coming to me." To live properly in God is to live in an attitude of receptivity and generosity, receiving a gift from God and being always ready to give it away.
Yet God respects our freedom and so "the father divided up the property." This is a tragic moment. What is meant to be a flow of grace becomes divided, separated, and riven into yours and mine.
Where does the son go? He wanders with his fortune into the "far country." In Greek the phrase is chora makra, meaning "the great wide-open emptiness". There he quickly squanders his inheritance, and so it always goes. When we cling to the divine life as our own, we lose it. He was forced to hire himself out so as to become a feeder of pigs. In the chora makra, there are only relationships of economic calculation, each one striving to hang on to what is his. "No one made a move to give him anything." And so it goes in the far country: it is the place of no giving.
Coming to his senses, at last, he decides to break away and return to his father, saying, "Treat me like one of your hired hands." He knows that even the slaves are in a life-giving relationship.
The father sees him from a long way off (he had obviously been looking for him) and then, throwing caution and respectability to the winds, he comes running out to meet him. The Bible is not the story of our quest for God, but of God's passionate, relentless quest for us. The father then says, "Put a ring on his finger and shoes on his feet." This is the ring of marriage, symbolizing the re-establishment of right relation between us and God.
Now the older son—though superficially so different from his brother—is actually in the same spiritual space, for he too sees himself in an economic relationship to his father. Like most upright, religiously respectable people, he is put off by this celebration for someone who most assuredly does not deserve it. Listen to his language: "For years I have slaved for you. I never disobeyed any of your orders, yet you never gave me so much as a kid goat to celebrate with my friends."
The older son is, therefore, a slave, and one who carefully obeys—not one who has caught the spirit of his father. He feels that he has to earn or deserve his father's love. He hates his brother and is resentful of his father's generosity. "Then when this son of yours returns after having gone through your property with loose women, you kill the fatted calf for him." When we fall out of love with God, we fall into hatred of one another.
The father patiently explains: "My son, you are with me always, and everything I have is yours." This is the key to the entire parable and is true for both sons, though they don't realize it.
Everything that God has is given to us. His whole being is "for-giving."
LENT DAY 27 – Sheer and Shocking Grace
In his letter to the Galatians, St. Paul tells the community his own story and how he came to the Christian faith. It didn't happen through study or through someone else's tutoring. It came as a sheer and shocking grace to the most unlikely of people.
"You heard of my former way of life in Judaism," he says with almost comical laconicism. Paul's conversion story must have been well-known at the time. "How I persecuted the church of God beyond measure and tried to destroy it."
Let those words sink in. Paul wasn't just opposed to Christianity; he didn't simply argue against it or ignore it. He actively, brutally, and violently persecuted it.
The Acts of the Apostles speaks of Paul "breathing murderous threats" and seeking to bring Christians back in chains. He was, in a word, about as far from Christian faith as you could get. He was spiritually dead.
Yet Christ brought him back to life: "When God, who from my mother's womb had set me apart and called me through his grace, was pleased to reveal his Son to me…" (Galatians1:15).
God fashioned Paul's Christian faith from nothing, and here's the application for all of us: don't give up hope, even when you are in desperate straits. Don't surrender, even when things seem utterly void of meaning and hope.
You may be on your last legs; you may have nothing left in the tank; you may be moving in the wrong direction.
But don't give up! God's grace can bring you back and renew your life again.
LENT DAY 28 – The Gift of Healing
Jesus was a healer: he cured the lame, the blind, and the deaf. He raised the dead to life. And healing, accordingly, has been associated with his followers from their very beginning. The Acts of the Apostles is filled with accounts of healing miracles via the earliest evangelists.
Up and down the centuries saints and holy people have been described as miraculous healers. For example, see Bernadette of Lourdes, who uncovered a spring which, for the last century and a half, has been a source of healing for the world. Even to the present day, we have healers in our churches.
Why has this gift been given to the Church? Undoubtedly so as to carry on the work of Christ and to help with evangelization.
Do many people have it? Obviously not, although some people in the church do indeed have the gift of physical healing. It is, as Paul indicates, a sign gift; its purpose is to signal in a remarkable way the mysterious power of God. Count me suspicious of those who go on television with this supposed capacity, but count me deeply appreciative of those dedicated souls who do genuinely have this charism of physical healing.
Does it mean that Catholics ought to eschew ordinary medicine and seek this kind of healing? Obviously not. God loves to work through secondary causes like doctors, medicines, and nurses. Ought we to rely on this gift in a presumptuous way? No, but sometimes it is called for.
Faith, prayer, and an acceptance of God's will are necessary for this gift. But it can be blocked. What can prevent it? Perhaps enlightened rationalism that simply rules it out of court—an excessive, unhealthy skepticism.
But perhaps this gift is given more broadly if we construe it along psychological and spiritual lines.
Are you the kind of person who heals others, who brings calm and peace, who soothes troubled psyches and spirits? If so, how generously are you putting this gift to the service of others?
LENT DAY 29 – Shift Your Perspective
There is a shift in consciousness that is essential to religion. It is the shift—conversion if you will—from a world-centered perspective to a God-centered perspective. It involves a letting-go of passing things in this world and resolutely clinging to God alone.
That means even letting go of relationships—even the best and most intense. Mind you, I don't mean this in the literal sense, but, if I can put it this way, in the attitudinal sense, "as if" they were not all defining.
St. Paul tells us that we are not to make the things of this world all important. We are not to be sad or happy but we are to understand that worldly happiness or unhappiness ultimately doesn't matter.
St. Paul was so overwhelmed by the resurrection of Jesus from the dead that everything in this world was relativized. God's love and purpose and existence—made eminently clear in the Resurrection—caused this world to fade into relative insignificance.
This is the apatheia urged by the Greek fathers and the indifference of Ignatius of Loyola: "Whether I have a long life or a short life; whether I am healthy or ill; whether I am wealthy or impoverished—it doesn't matter, as long as I am serving the Lord."
Instead of seeing money, success, fame, power, and pleasure as ultimate goods, see them as nothing compared to the grace of God. Instead of living as though worldly success were ultimate, live as though the things of this world don't matter at all. In a word, change your mind, and see things from the perspective of God.
LENT DAY 30 – Beyond the Mind You Have
Jesus begins his ministry by saying, "This is the time of fulfillment. The reign of God is at hand. Repent and believe the Good News!" (Mark1:15).
A new order has broken in—that's what the reign of God means. Something new has emerged in Jesus himself and it amounts to a new way of ordering things.
Now, what do we have to do?
Metanoiete, says Jesus. What the word means literally is "go beyond the mind that you have." See things in a new way; think about the world differently.
Immediately after giving this speech, Jesus calls Simon, Andrew, James, and John, and they leave everything behind: livelihood, family, worldly hopes, whatever ambitions they had—and they follow him.
This is the freedom that comes from conversion, from the attitude of detachment. They are no longer tied down—wrapped up, as it were, in their nets. Now they are free to follow the promptings of the Lord.
What does this mean for us today? The same thing it meant for the first followers of Christ. Go beyond the mind that you have. Repent. Live as though nothing in this world finally matters.
When you do this you will be living in the kingdom of God!
LENT DAY 31 – Encountering the Holy God
Isaiah's prophetic call, the moment when he encountered God and realized his mission and vocation, is a story for all of us.
Isaiah tells us that he was in the Temple and suddenly saw the Lord seated on a high and lofty throne, with the train of his garment filling the Temple with seraphim stationed above.
Isaiah sees the Lord, but he doesn't in any way describe him. God is always known as someone unknown, comprehended as someone incomprehensible. He shows himself but doesn't allow himself to be totally seen. The revelation of God is always, at the same time, the veiling of God.
Isaiah goes on to say that the door shook and the house was filled with smoke. An experience of God always shakes us, upsets us, and turns things around. We are driven out of our complacency, our ordinary ways of seeing and acting.
Then comes the inevitable confrontation with one's own imperfection: "Then I said, 'Woe is me, I am doomed! For I am a man of unclean lips, living among a people of unclean lips'" (Isaiah 6:5).
The closer we get to God, the more aware we become of our imperfections. We are always humbled in the presence of God, convicted of our sin, shaken and turned around. We are, in one sense, less confident, less cocky, less sure of ourselves. But this is all good, for the "self" that we lose is the false self, the sinful "I."
One of the seraphim then flew to Isaiah and touched his mouth with a burning ember. God is never interested in convicting us of our sin and leaving us hanging. His purity makes us pure if we allow him to burn away our sin. Something in you needs to be annihilated. And God's awe-ful holiness lets you know what that is.
LENT DAY 32 – Climbing Into Your Boat
Simon was an ordinary fisherman from Capernaum in Galilee. One day, he was going about his ordinary business, washing his nets and preparing for a catch. Without warning, without asking permission, Jesus got into his boat. Now the boat was everything for Peter; it was his livelihood, his security. And Jesus just got in and began giving orders.
So it goes in the order of grace. The true God cannot be manipulated by us, controlled through our efforts. Rather, he comes into our lives, often unbidden and unexpected, to determine and guide us.
What does this surprising and awe-inspiring person do once he gets our attention? He gives us a mission. When Jesus gets into Simon's boat, he says, "Put out into deep water and lower your nets for a catch." The deepwater represents God's work, projects, and intentions.
Jesus even clarified this mission for Peter saying, "Do not be afraid; from now on you will be catching men" (Luke 5:10). In essence, he told Peter: Now you know what your life is about; now the depth dimension has opened up.
But what does all of this also produce? A keen sense of one's own sinfulness. It is a Biblical commonplace (on display in the lives of all the saints as well) that the closer God gets, the more one becomes aware of his sin. But once God reveals himself, once he gets into our boat, we can no longer live with those comforting illusions.
Peter says, "Leave me, Lord, I'm a sinful man" (Luke 5:8). This is precisely why we recite or sing the Kyrie at the beginning of every Mass. In God's presence, we become aware of our sin. We must not be afraid of acknowledging our sin—despite a thousand suggestions to the contrary coming from the culture. God can easily deal with sin that is honestly confessed.
Our God is not the least bit interested in getting us fussily preoccupied with our sin. He wants us to confess it and get on with the mission.
Has God broken into your life? Has he given you a mission? Has he forgiven your sins? The answer to all three questions is: "Yes!"
LENT DAY 33 – The Scapegoat
I recently mourned the death of French philosopher René Girard, whose insights on group psychology and the scapegoating mechanism were very influential in my life. He says that a kind of community is formed precisely when a variety of people, who would otherwise rather dislike one another, come together in a common hatred of someone else.
We can see this, Girard tells us, at all levels, from the most personal to the most collective, from families to nation-states. How often there is a "black sheep" in a family? He or she plays an important role in family stability and identity.
What is the only thing that two scholars can agree on? How poor the work of a third scholar is! Likewise, what is the only thing two musicians can agree upon? How awful another musician's composition is.
This dynamic is in effect in one of the most beautifully crafted stories in the New Testament: the woman caught in adultery (John 8:1-11), which we hear today at Mass. The text tells us "They caught her in the very act of adultery."
The first thing we wonder is, where were they situated in order to catch her in the very act? The voyeurism and perversion of these men are shocking.
Then they come en masse, in the terrible enthusiasm of a mob, and they present the case to Jesus.
Now, what does Jesus do in the face of this violent mob that is seeking release from its tension? First, he bends down and writes on the ground. Sometimes silence, a refusal to co-operate is the best opening move. But the mysterious writing might indicate something else: the writing down of the sins of each person in the group, as some of the Church Fathers surmised.
Then Jesus says "let the one among you who is without sin be the first to cast a stone at her." He forces them to turn their accusing glance inward, where it belongs. Instead of projecting their violence outward on a scapegoat, they should honestly name and confront the dysfunction within them. This story, like all the stories in the Gospels, is a foreshadowing of the great story toward which we are tending. Jesus will be put to death by a mob bent on scapegoating violence. Yet in sacrificing himself, he will ultimately absorb the violence and defuse it.
LENT DAY 34 – The God of Mercy
God is much more interested in your future than in your past. Why worry excessively about what came before? Why obsess over your past sins? We have a God who "makes all things new," and in that we find hope.
It is a sad commentary indeed, but very often it's religious people who most want to trap others in their past, nail them to the cross of the mistakes they have made, and use religion itself as the means to affect this punishment. This is as true today as it was in the time of Christ when the mob brought the woman caught in adultery before him.
In one of the great one-liners of the entire Bible, which we heard yesterday at Mass, Jesus disarms them: "Let the one among you who is without sin be the first to throw a stone at her" (John 8:7). Our solidarity in sin ought to awaken in us greater compassion for one another. At this prompting, they drifted away, one by one, until Jesus was left alone with the woman.
Then Jesus said, "Neither do I condemn you. Go, and from now on do not sin anymore" (John 8:11). How rich is that little word "go." Again, what is being emphasized is the future, not the past, on what lies ahead instead of obsessing with what lies behind.
Do you feel terribly imprisoned by your past? Perhaps you've done something terrible, something awful and shameful and every time you think of it, you cringe. Or maybe someone has harmed you so severely that you just can't let go of the hurt and you continue to seethe with resentment. Perhaps you feel that you've done something so wrong that not even God can forgive you. You don't even bother going to confession because you're just too ashamed or so convinced that God wouldn't forgive you.
What I want you to know right here and right now is that there is a way out, a way forward, a path opening up in the desert.
You might be miseria (in misery) but standing right in front of you is Misericordia (mercy). So, go.
LENT DAY 35 – Into the Desert
The Biblical authors knew all about the desert, for they were desert people.
How often the great heroes of the Biblical revelation have to spend time in the desert: Abraham has to cross it to get to the promised land; Moses and the Israelite people have to go through it to get home; Joseph is sent into Egypt and prison before he is ready for his mission; John the Baptist is a voice crying in the desert; Paul goes into the desert of Arabia after receiving the revelation on the road to Damascus. Even Jesus himself spends forty days and nights in the desert before commencing his ministry.
What does the desert symbolize? A number of things: confrontation with one's own sin, seeing one's dark side; a deep realization of one's dependency upon God; an ordering of the priorities of one's life; a simplification, a getting back to basics. It means any and all of these things.
But the bottom line is that all of them had to wait through a painful time, living a stripped-down life, before they were ready for the mission. They were compelled to wait, during a time and in a place where very little life seems to be on offer.
But it is precisely in such deserts that the flowers bloom. Moses becomes a great leader; Abraham is the father of many nations; Joseph becomes the savior of his people; John the Baptist is the forerunner of the Messiah; Paul is the apostle to the Gentiles. And of course, Jesus becomes our Savior.
This Lent, perhaps God is calling you into the desert—not to punish you, but to prepare you.
LENT DAY 36 – Flowering in the Desert
People who live in the desert speak of the flowering of the desert that takes place practically overnight.
Often we are forced to go through desert times where there doesn't seem to be any possibility of flowering. Religiously intentional people will do so purposely and consciously, but most people are drawn through it quite against their will.
I knew a woman who endured a terrible depression. Depression is something of an epidemic in our country. There are all sorts of reasons for it: physiological, psychological, experiential, spiritual—but however it is produced, it is awful.
This woman was in that sort of state for an extended period of time. She came to see me and asked what it could possibly mean. I encouraged her to read the great desert texts of the Bible, especially Isaiah, that tell us flowers bloom precisely in the desert.
In time, and after much study, she became a therapist and now helps to guide others through their deserts.
The apostle James also talks about waiting for new life to spring forth: "Be patient, my brothers, until the coming of the Lord. See how the farmer awaits the precious yield of the soil. He looks forward to it patiently while the soil receives the winter and the spring rains" (James 5:7).
There is so much packed into that image. The farmer watches the plants and crops grow, but he doesn't fully grasp how this happens. The gestation takes place silently and in secret, below the ground. There is a time when a beautiful plant, exultant in the sun, is nothing more than a seed, buried under a foot of earth. There's nothing beautiful about it, nothing impressive when it is buried in the earth.
So too are we during our desert periods.
What is the worst thing that a farmer could do? Pick at the plant impatiently, trying to hurry its growth. It takes just as much time as it takes. And what else is required? Winter and spring rains. What is more obnoxious, more disagreeable than winter rain? But without it, there will be no growth.
So the depressions, setbacks, failures, sufferings of our lives are like winter rains.
Do we trust in the work of the divine cultivator?
LENT DAY 37 – The Sower and the Seed
Jesus knew his audience understood images of cultivation and agriculture when he spoke the parable of the sower and the seed. The sower sows far and wide, some of the seed lands on the path where the birds eat it up; some falls on rocky ground where the life is choked off; some are sown among thorns, and some are sown on rich soil where it bears thirty, sixty, or a hundredfold.
Keep in mind that Jesus himself in person is the seed sown. Jesus is the logos that wants to take root in us. This seed is sown far and wide, through all sorts of means. It is destined for the whole world
But one thing that blocks its reception is lack of understanding, lack of education in the ways of the Spirit. The fundamentals have to be in place before the Word can be accepted.
People can be fascinated by the spiritual and the religious, drawn in by a charismatic personality or an intense experience, or by trauma. But when they lack the discipline of a religious tradition, they become in time vaguely spiritual. Nothing in life that is taken seriously subsists without discipline and perseverance.
The Word of God is the central and defining dynamic of life. To know the will of God, to know the mind of God, to understand his purpose and path, is all-important. Without it, you lose your way amidst all of the conflicting voices and inclinations of the world.
When we understand the faith; when we take the time to read theology, to study the Scripture, to feel with the church; when we have perseverance; when we are disciplined and enter into the practice of the faith; when we have our priorities straight, then the seed will take root in us. And it will bear fruit thirty, sixty, or a hundredfold.
LENT DAY 38- The Gardener Who Sows Wildly
God speaks and his word is efficacious; it accomplishes what it says. This is true, of course, in the primordial moment of creation: God says, "Let there be light," and there is light. It affects what it says.
And the effect of God is always life, always "fertility and fruitfulness" as the prophet Isaiah says.
Why does God create? Is it out of need? No. God creates because he is diffusivum sui, diffusive of himself, bubbling over with joy and fecundity. He creates, as Vatican I says, in order to manifest his glory. He is effervescent, exuberant, over the top, playful and creative love. God is the gardener of being who sows, plants, and prunes.
We see this in Jesus' magnificent parable of the sower and seed. In the Palestine of Jesus' time, the seed was, like water, a precious commodity. In the unforgiving soil and harsh climate, one was very careful with seed. Indeed, one's life could very much depend on how the precious seed was sown.
And what does this farmer in Jesus' parable do? Well, he sows wildly, liberally, and seemingly without care as to where the seed lands. He sows on the rocks, in the thorny ground, on the path—and in good soil.
So, Jesus implies, does God sow the seed of his gracious and redeeming love. God is not discriminating, capricious, or arbitrary. He is just always himself, sowing his love whether we are ready for it or not, whether we are good soil or not.
The good news here is that if we are the least bit open and receptive, this seed will take root in us. Just let God be God and you will come to life.
LENT DAY 39- How Will You Respond?
The parable of the sower and seed provides a very helpful examination of conscience.
The sower of the seed is God the Father, and the seed that he sows is Jesus his son. "The seed sown on the path is the one who hears the word of the kingdom without understanding it, and the evil one comes and steals away what was sown in his heart" (Mark 4:15).
I would imagine that practically everyone reading this reflection has heard the word of Jesus Christ. There are some reading who even attend church every Sunday and listen to that word. But perhaps you have never sought to deepen your faith, to understand what is being said. People will deepen their understanding of finance, science, literature, art, sports, technology—but they will often allow their religious understanding to remain at the eighth-grade level. When we allow this to happen, the word will never take root in us.
"The seed sown on rocky ground is the one who hears the word and receives it with joy. But he has no root and lasts only for a time" (Mark 4:16-17). I found this sometimes among the seminarians I used to teach. They could hear God's word and that word could penetrate to their very heart and they could rejoice over it. But then they don't allow it to sink deep into them. When they come down from their "high," they lose interest and enthusiasm.
The Word of God is meant to sustain us precisely during the difficult times, but it can do this only if it reaches deep into us. The daily practice of faith is essential here. Baseball practice is rarely if ever joyful. Violin practice is usually something of a drudgery. But those exercises allow people to play for the long haul. So in matters of God's word: it has to be practiced.
"The seed sown among thorns is the one who hears the word, but then worldly anxiety and the lure of riches choke the word and it bears no fruit" (Mark 4:18-19). This is now a third danger, distinct from the first two. The first had to do with the mind and the second with religious practice. This one has to do with worldliness, which is always a danger to the faith.
This parable offers a meditation on the ways the Word of Jesus Christ lands in our hearts and souls. The most important issue that you will ever face, the most pressing question you will ever be asked is how do you respond when this word is sown?

Palm Sunday – A King and a Donkey
A donkey was, in Jesus' time, much what it is today: a humble, simple, unassuming little animal, used by very ordinary people to do their work. The wealthy and powerful might own horses or a team of oxen and a political leader might ride a stately steed, but none of them would have anything to do with donkeys.
All of his public career, Jesus had resisted when people called him the Messiah. He sternly ordered them to be silent. When they came to carry him off and make him King, he slipped away.
But now he is willing to be proclaimed precisely at the moment when he rides into Jerusalem on a donkey. The Gospel is clear: this is not only a donkey; it is a colt, the foal of an ass, on whom no one had ever previously sat. This is a young, inexperienced, unimpressive donkey. This is the animal upon whom Jesus rides into town in triumph. In other words, this is no ordinary King; this is not the Messiah that they expected.
Now let us look even more closely at the animal. Jesus tells two of his disciples to go into a neighboring town and to find this beast of burden. "If anyone asks, respond, 'the Master has need of it'" (Matthew 21:3). The humble donkey, pressed into service, is a model of discipleship. Our purpose in life is not to draw attention to ourselves, to have a brilliant career, or to aggrandize our egos. Rather, our purpose is to serve the Master's need—to cooperate, as he sees fit, with his work.
What was the donkey's task? He was a "Christopher," a Christ-bearer. He carried the Lord into Jerusalem, paving the way for the passion and the redemption of the world. Would anyone have particularly noticed him? Probably not, except perhaps to laugh at this ludicrous animal.
The task of every disciple is just the same: to be a "Christopher," a bearer of Christ to the world. Might we be unnoticed in this? Yes. Might we be laughed at? Of course. But the Master has need of us and so we perform our essential task.
LENT DAY 41- Coming from the East
St. Mark tells us that Jesus approached the Holy City of Jerusalem from the east: "When Jesus and his disciples drew near to Jerusalem, to Bethpage and Bethany at the Mount of Olives…" The Mount of Olives was just to the east of Jerusalem, and Bethpage and Bethany were on the eastern slope of the Mount.
Why in the world would this detail be important? Well, in the prophet Ezekiel, we hear that, because of the corruption of the Temple, the glory of the Lord had up and left. This was one of the most devastating events in all of the Old Testament, for the Temple of the Lord was, in practically a literal sense, the dwelling place of Yahweh. To imagine that the glory of the Lord had quit the Temple was shocking in the extreme.
However, Ezekiel prophesied that one day the Lord would return to the Temple, and from the same direction by which he left—the east. Upon the return of the glory of Yahweh, Ezekiel predicted, the Temple would be rebuilt and reconstituted.
Pious Jews in Jesus' time certainly knew these texts. As they watched Jesus, they couldn't help but think of them, because Jesus proclaimed himself the true Temple: "You have a greater than the Temple here."
And then see what Mark saw: Jesus approaching the old Temple from the east, just as Ezekiel said the glory of Yahweh would approach the Temple.
There we have Jesus, speaking and acting in the very person of God, the glory of Yahweh taking possession of his house.
LENT DAY 42- Lord of the Temple
The Temple in Jerusalem was everything for ancient Jews. The Temple was the religious center of the nation, as well as political and cultural capital. To get some idea of its importance, we would have to think of the Vatican, the United Nations, and the Sorbonne. For the Biblical Jews were more than a religious meeting place; it was God's house, the place where God made his dwelling on earth, the tabernacle of Yahweh.
So what did it mean for a provincial prophet to come into the holy city of Jerusalem and make a ruckus in the Temple? Well, you can imagine. What if someone burst into St. Peter's and began shouting and turning things over and announcing judgment? It would be shocking and embarrassing beyond words.
To make matters worse, Jesus says something that is as shocking as his actions.
When they ask him to give a justification for what he has done, he says, "I will destroy this Temple and in three days rebuild it." He says he will destroy the most sacred symbol imaginable.
So what was he doing and why? First, in showing his lordship over even this most sacred symbol, he was announcing who he was—God. Second, he was instituting a new Temple–the temple of his own body. The authentic dwelling place of God, the sanctuary that replaces the corrupt sanctuaries of religion is the temple of his crucified and risen body. Jesus himself is the place where God dwells, and we in the measure that we are grafted on to him are Temples of the Holy Spirit.
Today the Church is the sacred Temple of Christ's body; it is most itself when it gathers to pray as his body, and around his body and blood. Does it mean that the Church, in its institutional dimension, is beyond criticism? Obviously not. Sometimes we need the Lord to come into the Temple and clean it out.
Does it mean that, individually, we are clean and pure? No, in fact, it invites questions such as, what in our "Temple" needs to be purified? How have we allowed the moneychangers to invade the sacred space? What would arouse the anger of Jesus if he toured around inside our house?
LENT DAY 43- Cleansing Our Temple
We hear in the Gospel how Jesus entered the great Temple in Jerusalem—which for a Jew of that time was everything—and began to tear the place apart. Precisely because the Temple was supposed to be so holy, Jesus was flabbergasted at what had happened to it, how the trading of merchants had come to dominate what was supposed to be holy ground.
From the earliest days, Christian writers and spiritual teachers saw the Temple as symbolic of the human person. In fact, St. Paul himself referred to the body as a temple of the Holy Spirit. Your very self is meant to be a temple, where God's spirit dwells and where prayer, communion with God, is central.
But what happens to us sinners? The moneychangers and the merchants enter in. What is supposed to be a place of prayer becomes a den of thieves. And so the Lord must do in us now what he did in the Temple then: a little house-cleaning.
One of the best ways that we can cooperate with this process is to go back to the basics of the Ten Commandments. Let's just look at the first three. The first three commandments have to do with the question of one's fundamental spiritual orientation: who or what, precisely, is the object of your worship? What do you hold to be spiritually basic? If we're honest, a lot of us would say something like sex, pleasure, money, power, status, or to sum all of this up, our own egos. And so we need to hear the very first commandment: "I am the Lord your God; you shall not have other gods besides me."
Next, you shall not disrespect God with your speech, for this leads rather quickly to a denigration of God: "You shall not take the name of the Lord your God in vain." This can seem fussy and puritanical, as though "swearing" is a terrible sin. But speech is a terribly powerful thing. What we say influences profoundly how we think and act, which in turn shapes our attitudes and behaviors.
And thirdly, you must worship this God on a regular basis. There is no place for the attitude of "I'm alright with God; I just have no time for going to Mass." Or "I get nothing out of the Mass." So what? You're obliged to concretize your worship. "Keep holy the Sabbath day."
What shape is the Temple of your soul in with regard to these first three commandments?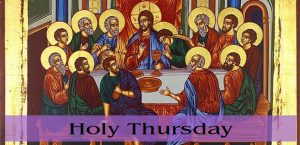 Holy Thursday
Jesus' Final Teaching
The night before he died, Jesus gives a strange, mystical speech to his disciples. This was his last will and testament. In the course of this seemingly rambling discourse, Jesus is luring them, for the last time, into his vision of things, which is to say, into a world in which the fear of death has been overcome.
From the beginning of his ministry, Jesus spoke of a divine love that loves us unconditionally, that reaches out to us even when we wander far away, and that loves us even through the terror and darkness of death. Just as he moved into the shame and marginalization of sin in order to bring the light to sinners, now he will move into the darkness of death in order to show us the way through.
Jesus is about to leave this world, and he prays that his disciples might know that they are not of this world. What does this world look like concretely? Well, look around.
The fear of death is like a cloud, like a terrible shadow that falls over human life and experience. All of our proximate fears are reflections of, and participation in, this primordial fear. It cramps us, turns us in on ourselves, and it makes us defensive, hateful, violent, and vengeful.
Further, structures of oppression in our world are predicated upon the fear of death. Because a tyrant can threaten his people with death, he can dominate them and perpetrate all sorts of injustice.
Whenever the strong (in any sense) overwhelm the weak, we are looking at the ways of death.
Jesus came to inaugurate what he called the Kingdom of God, God's way of being, God's order. This is an order based upon the infinite and death-defying love of God. What would the world look like under the influence of this love? It would be radically changed, revolutionized, replaced: "A new heavens and a new earth."
What would life be like if we were no longer afraid? We would live as the saints do—not immune to suffering, but, if I can put it this way, unaffected by it. We would know that we are loved by a power that transcends death, and this would fill us with an exuberance beyond measure.

Good Friday
The Final Enemy
God hates death and wants nothing to do with it. Listen to the words of Ezekiel the prophet: "I will open your graves and have you rise from them" (Ezekiel 37:12). These are spoken just after the marvelous scene of the enlivening of the dry bones.
There is an important clue here, by the way. Those dry bones were there because a battle had been fought on that spot. Death, the fear of death, the threat of death, putting to death—all of this broods over human life and grounds sin and oppression. Think for a moment: all sin flows finally from a fear of death. Every tyrant who has ever lived has succeeded through awakening in people the fear of death.
But what if death, as we know it and experience it, is not at all what God intended? What if it were something that God wanted to deal with once and for all, to get rid of? The book of Genesis tells us clearly that death came from sin. Mind you, death is not the dissolution of the body—that seems to be part of the natural process. But death as we experience it—as something fearful, horrible, terrifying—comes from having turned from God.
On this Good Friday, it's important to remember that Jesus came primarily as a warrior whose final enemy is death. I know how easy it is to domesticate Jesus, presenting him as a kindly and inspiring moral teacher, but that is not how the Gospels present him. He is a cosmic warrior who has come to do battle with all of those forces that keep us from being fully alive.
Throughout the Gospels, Jesus deals with the effects of death and a death-obsessed culture: violence, hatred, egotism, exclusion, false religion, phony community.
But the final enemy he must face down is death itself. And he does it on a cross.
Holy Saturday
Today we commemorate Holy Saturday, the quiet, somber interlude between Good Friday and Easter Sunday. Instead of sharing my own reflections I'd like to share this ancient homily, composed by an anonymous source. It brings to life that stirring line in the Apostle's Creed: "He descended into hell."
What is happening? Today there is a great silence over the earth, a great silence, and stillness, a great silence because the King sleeps; the earth was in terror and was still because God slept in the flesh and raised up those who were sleeping from the ages. God has died in the flesh, and the underworld has trembled.
Truly he goes to seek out our first parent like a lost sheep; he wishes to visit those who sit in darkness and in the shadow of death. He goes to free the prisoner Adam and his fellow-prisoner Eve from their pains, he who is God, and Adam's son.
The Lord goes into them holding his victorious weapon, his cross. When Adam, the first created man, sees him, he strikes his breast in terror and calls out to all: "My Lord be with you all." And Christ in reply says to Adam: "And with your spirit." And grasping his hand he raises him up, saying:
"Awake, O sleeper, and arise from the dead, and Christ shall give you light.
I am your God, who for your sake became your son, who for you and your descendants now speak and command with authority those in prison: Come forth, and those in darkness: Have light, and those who sleep: Rise.
I command you: Awake, sleeper, I have not made you to be held a prisoner in the underworld. Arise from the dead; I am the life of the dead. Arise, O man, work of my hands, arise, you who were fashioned in my image. Rise, let us go hence; for you in me and I in you, together we are one undivided person.
For you, I, your God became your son; for you, I the Master took on your form; that of a slave; for you, I who am above the heavens came on earth and under the earth; for you, man, I became like a man without help, free among the dead; for you, who left a garden, I was handed over to Jews from a garden and crucified in a garden.
Look at the spittle on my face, which I received because of you, in order to restore you to that first divine inbreathing at creation. See the blows on my cheeks, which I accepted in order to refashion your distorted form to my own image.
See the scourging of my back, which I accepted in order to disperse the load of your sins which was laid upon your back. See my hands nailed to the tree for a good purpose, for you, who stretched out your hand to the tree for an evil one.
I slept on the cross and a sword pierced my side, for you, who slept in paradise and brought forth Eve from your side. My side healed the pain of your side; my sleep will release you from your sleep in Hades; my sword has checked the sword which was turned against you.
But arise, let us go hence. The enemy brought you out of the land of paradise; I will reinstate you, no longer in paradise, but on the throne of heaven. I denied you the tree of life, which was a figure, but now I myself am united to you, I who am life. I posted the cherubim to guard you as they would slaves; now I make the cherubim worship you as they would God.
The cherubim throne has been prepared, the bearers are ready and waiting, the bridal chamber is in order, the food is provided, the everlasting houses and rooms are in readiness; the treasures of good things have been opened; the kingdom of heaven has been prepared before the ages."
Easter Sunday
The Victory of Easter
Christ is Risen! Alleluia!
Today we celebrate the Resurrection of Jesus from the dead. But what does it mean to say, "Jesus conquered the grave"?
In the Gospels, Jesus is depicted, not so much as ethical teacher, but as a cosmic warrior, come to do battle with the powers of sickness, disease, hatred, and sin. He shows his Lordship over fallen nature itself as he calms the storm and heals broken bodies.
Jesus calls out the powers and battles with them—not with the crude weapons of the world—but with God's weapons of non-violence, compassion, and forgiveness.
The cosmos, which had been moving in one direction, now seems through him to be moving in another. The powers of dissolution, division, and separation are now being conquered. Jesus is knitting up the torn cosmos.
But what is the ultimate power of the world, the ultimate source of violence, sin, scattering, and dissolution? It is the power of death.
Because we are afraid to die, we cling to ourselves defensively; we try to assuage our fear through material things and sex and power; we lash out at others violently. Death tears at the fabric of the cosmos. One could say that the fear of death is at the root of all of the sin and violence in the human community.
Therefore, just as Jesus—God's warrior—came to do battle with all of the powers opposed to God's intention, just as he came to bring God's "yes" to the "no" of the world, so he had to confront the final and greatest power.
Jesus stood, his whole life long, in the muddy waters of our human dysfunction, for he had to engage it at close quarters, drawing, as St. Anselm said, the diamond from the muck.
Jesus goes into the kingdom of death and brings to that dark place the light of God—and more to the point, he brings the power of God, and with this power, he breaks the hold that death has over us.
Thus the Resurrection of Jesus is the declaration of victory over this terrible power.
The dark cloud that has brooded over our lives, turning us in on ourselves and outward in violence, has been removed. The power that has held us ransom has been overthrown. – Robert Barron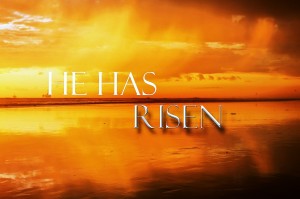 **************************************************
"Make your hearts firm"
Pope's Message for Lent 2015
Vatican City, 27 January 2015 (VIS) – The following is the full text of the Holy Father Francis' message for Lent 2015, entitled "Make your hearts firm". The document was signed in the Vatican on 4 October 2014, the festivity of St. Francis of Assisi.
"Lent is a time of renewal for the whole Church, for each community and every believer. Above all, it is a 'time of grace'. God does not ask of us anything that he himself has not first given us. "We love because he first has loved us'. He is not aloof from us. Each one of us has a place in his heart. He knows us by name, he cares for us and he seeks us out whenever we turn away from him. He is interested in each of us; his love does not allow him to be indifferent to what happens to us. Usually, when we are healthy and comfortable, we forget about others (something God the Father never does): we are unconcerned with their problems, their sufferings and the injustices they endure. Our heart grows cold. As long as I am relatively healthy and comfortable, I do not think about those less well off. Today, this selfish attitude of indifference has taken on global proportions, to the extent that we can speak of a globalization of indifference. It is a problem which we, as Christians, need to confront.
When the people of God are converted to his love, they find answers to the questions that history continually raises. One of the most urgent challenges which I would like to address in this Message is precisely the globalization of indifference.
Indifference to our neighbor and to God also represents a real temptation for us Christians. Each year during Lent we need to hear once more the voice of the prophets who cry out and trouble our conscience.
God is not indifferent to our world; he so loves it that he gave his Son for our salvation. In the Incarnation, in the earthly life, death, and resurrection of the Son of God, the gate between God and man, between heaven and earth, opens once for all. The Church is like the hand holding open this gate, thanks to her proclamation of God's word, her celebration of the sacraments and her witness of the faith which works through love. But the world tends to withdraw into itself and shut that door through which God comes into the world and the world comes to him. Hence the hand, which is the Church, must never be surprised if it is rejected, crushed and wounded.
God's people, then, need this interior renewal, lest we become indifferent and withdraw into ourselves. To further this renewal, I would like to propose for our reflection three biblical texts.
1. 'If one member suffers, all suffer together' – The Church
The love of God breaks through that fatal withdrawal into ourselves which is indifference. The Church offers us this love of God by her teaching and especially by her witness. But we can only bear witness to what we ourselves have experienced. Christians are those who let God clothe them with goodness and mercy, with Christ, so as to become, like Christ, servants of God and others. This is clearly seen in the liturgy of Holy Thursday, with its rite of the washing of feet. Peter did not want Jesus to wash his feet, but he came to realize that Jesus does not wish to be just an example of how we should wash one another's feet. Only those who have first allowed Jesus to wash their own feet can then offer this service to others. Only they have 'a part' with him and thus can serve others.
Lent is a favorable time for letting Christ serve us so that we, in turn, may become more like him. This happens whenever we hear the word of God and receive the sacraments, especially the Eucharist. There we become what we receive: the Body of Christ. In this body, there is no room for the indifference which so often seems to possess our hearts. For whoever is of Christ, belongs to one body, and in him, we cannot be indifferent to one another. If one part suffers, all the parts suffer with it; if one part is honored, all the parts share its joy'.
The Church is the communio sanctorum not only because of her saints but also because she is a communion in holy things: the love of God revealed to us in Christ and all his gifts. Among these gifts, there is also the response of those who let themselves be touched by this love. In this communion of saints, in this sharing in holy things, no one possesses anything alone but shares everything with others. And since we are united in God, we can do something for those who are far distant, those whom we could never reach on our own, because with them and for them, we ask God that all of us may be open to his plan of salvation.
2. 'Where is your brother?' – Parishes and Communities
All that we have been saying about the universal Church must now be applied to the life of our parishes and communities. Do these ecclesial structures enable us to experience being part of one body? A body that receives and shares what God wishes to give? A body that acknowledges and cares for its weakest, poorest and most insignificant members? Or do we take refuge in a universal love that would embrace the whole world, while failing to see the Lazarus sitting before our closed doors?
In order to receive what God gives us and to make it bear abundant fruit, we need to press beyond the boundaries of the visible Church in two ways.
In the first place, by uniting ourselves in prayer with the Church in heaven. The prayers of the Church on earth establish a communion of mutual service and goodness which reaches up into the sight of God. Together with the saints who have found their fulfillment in God, we form part of that communion in which indifference is conquered by love. The Church in heaven is not triumphant because she has turned her back on the sufferings of the world and rejoices in splendid isolation. Rather, the saints already joyfully contemplate the fact that, through Jesus' death and resurrection, they have triumphed once and for all over indifference, the hardness of heart and hatred. Until this victory of love penetrates the whole world, the saints continue to accompany us on our pilgrim way. Saint Therese of Lisieux, a Doctor of the Church, expressed her conviction that the joy in heaven for the victory of crucified love remains incomplete as long as there is still a single man or woman on earth who suffers and cries out in pain: 'I trust fully that I shall not remain idle in heaven; my desire is to continue to work for the Church and for souls'.
We share in the merits and joy of the saints, even as they share in our struggles and our longing for peace and reconciliation. Their joy in the victory of the Risen Christ gives us strength as we strive to overcome our indifference and hardness of heart.
In the second place, every Christian community is called to go out of itself and to be engaged in the life of the greater society of which it is a part, especially with the poor and those who are far away. The Church is missionary by her very nature; she is not self-enclosed but sent out to every nation and people.
Her mission is to bear patient witness to the One who desires to draw all creation and every man and woman to the Father. Her mission is to bring to all a love which cannot remain silent. The Church follows Jesus Christ along the paths that lead to every man and woman, to the very ends of the earth. In each of our neighbors, then, we must see a brother or sister for whom Christ died and rose again. What we ourselves have received, we have received for them as well. Similarly, all that our brothers and sisters possess is a gift for the Church and for all humanity.
Dear brothers and sisters, how greatly I desire that all those places where the Church is present, especially our parishes and our communities, may become islands of mercy in the midst of the sea of indifference!
3. 'Make your hearts firm!' – Individual Christians
As individuals too, we have are tempted by indifference. Flooded with news reports and troubling images of human suffering, we often feel our complete inability to help. What can we do to avoid being caught up in this spiral of distress and powerlessness?
First, we can pray in communion with the Church on earth and in heaven. Let us not underestimate the power of so many voices united in prayer! The '24 Hours for the Lord' initiative, which I hope will be observed on 13-14 March throughout the Church, also at the diocesan level, is meant to be a sign of this need for prayer.
Second, we can help by acts of charity, reaching out to both those near and far through the Church's many charitable organizations. Lent is a favorable time for showing this concern for others by small yet concrete signs of our belonging to the one human family.
Third, the suffering of others is a call to conversion, since their need reminds me of the uncertainty of my own life and my dependence on God and my brothers and sisters. If we humbly implore God's grace and accept our own limitations, we will trust in the infinite possibilities that God's love holds out to us. We will also be able to resist the diabolical temptation of thinking that by our own efforts we can save the world and ourselves.
As a way of overcoming indifference and our pretensions to self-sufficiency, I would invite everyone to live this Lent as an opportunity for engaging in what Benedict XVI called a formation of the heart. A merciful heart does not mean a weak heart. Anyone who wishes to be merciful must have a strong and steadfast heart, closed to the tempter but open to God. A heart that lets itself be pierced by the Spirit so as to bring love along the roads that lead to our brothers and sisters. And, ultimately, a poor heart, one which realizes its own poverty and gives itself freely for others.
During this Lent, then, brothers and sisters, let us all ask the Lord: 'Fac cor nostrum secundum cor tuum': Make our hearts like yours (Litany of the Sacred Heart of Jesus). In this way, we will receive a heart that is firm and merciful, attentive and generous, a heart that is not closed, indifferent or preys to the globalization of indifference.
It is my prayerful hope that this Lent will prove spiritually fruitful for each believer and every ecclesial community. I ask all of you to pray for me. May the Lord bless you and Our Lady keep you".
**************************************************